What's On: The JR/Tudor City Edition
by NY*Confidential
JR, the photo artist known for his unique displays on Ellis Island, in Herald Square and in Brooklyn, has made Tudor City iconic once more. His new show opens at the Brooklyn Museum this weekend.
Greetings, NYConfidants!

Just a quick note, as this is running behind tonight and I don't want you to miss any Thursday night action. As you can see, the beloved street artist JR found something worthwhile in Tudor City, as the many residents there found in previous decades. Check out his opening JR, Chroniclesat the Brooklyn Museum.
Freestyle Love Supreme the hip-hop, improvisational, never-before-seen comedy ride by that Hamilton dude hits Broadway, as many of the big-box hits. Check out The Public for good off. TheNYFF57,57th annual New York Film Festival is still on, although Where's My Roy Cohn is the doc to watch!Lots and lots of things below, so pick a date and get out there!

What's On: NY*Confidential resides on www.nyconfidant.com.
Like what you see here? Back it through Patreon.
Or subscribe on https://adrianbrune.substack.com/
Who wouldn't be up for a secret tour of a secret agency? Go behind the scenes at the museum dedicated to the KGB on 14th Street. The Museum of espionage and the KGB is no longer really a secret.
BOOK/LECTURE/FESTIVAL
Oktoberfest NYC 2019: Six weekends, turning downtown's Pier 15 into a lively celebration of authentic German beers, food, music/ WatermarkBar at Pier 15, through 20 Oct.
FringeBYOV: An extraordinary collaboration across seven indie venues, featuring 40 mainstage shows plus more than 25 FringeCLUB / artist-driven performances and events.Various, 1-31 Oct.
Powerhouse presents Rachel Ignotofsky, Women In Art : From Rachel Ignotofsky, the New York Times bestselling author of Women... comes Women in Art, a collection of illustrated profiles of 50 pioneering female artists from the 11th century to today.POWERHOUSE, Dumbo, 4 Oct.
Exploring the East River, From General Slocum Disaster to Abandoned Islands: In 1904, more than a thousand people boarded a boat in lower Manhattan, heading for a church picnic on Long Island — only 321 of them would return. A two-part aquatic adventure. Pier 11 / Wall St., 5 Oct.
Tour & Artifact Showcase @ The KGB Espionage Museum: One might think that a museum dedicated to the KGB would be located in a secret government building somewhere in Moscow, not on 14th Street! KGB Espionage Museum, 5 Oct.
Inside Blatt Billiards, World's Finest Handcrafted Billiard Table Maker: What do fashion designer Tommy Hilfiger, actor Denzel Washington, and musician Taylor Swift all have in common? They all own billiard tables from the world's industry leader. Blatt Billiards, Wood-Ridge, NJ, 5 Oct.
Hands-On Graffiti Art Workshop with Artist CBK: Immerse yourself in the art of graffiti with John Macchione (@CBK-Clothing), a local graffiti artist. Glen Street, Glen Cove, New York, 5 Oct.
Exploring the Church of the Intercession, Trinity Cemetery, & Crypt: A special access tour of the historic Church of the Intercession, a landmark designed in the Gothic Revival style by famed architect Bertram Grosvenor Goodhue. Church of the Intercession, 11:45 am/
The Art of Croquet — Workshop with Private Croquet Club in Central Park: Did you know that a private croquet club has been playing ball in the heart of Central Park for decades? Now's your chance to knock their balls Central Park Lawn Sports Center, 6 Oct.
Exploring the Origins of Baseball, from Bowery to Broadway: Uncover the origins of baseball, and trace the early history of the sport as it developed in New York. Chef Restaurant Supplies (Outside), 6 Oct.
Jodi Kantor and Megan Twohey present She Said: Breaking the Sexual Harassment Story: From the Pulitzer-prize winning reporters who broke the news of Harvey Weinstein's sexual harassment comes the thrilling untold story of their investigation. Congregation Beth Elohim, 6 Oct.,
Pop-Up Magazine: A new group of contributors share stories about Escape: spending a decade as a fugitive, taking a vacation without leaving the house, breaking free of our online identities. David Geffen Hall, Lincoln Center, 10 October.
Zadie Smith presents Grand Union: In her first short story collection, Smith interleaves 11 completely new and unpublished stories with some of her best-loved pieces. Murmrr Theatre,10 Oct.
Private Access Inside The "Little Red Lighthouse" Underneath GW Bridge: Go inside New York City's most famous lighthouse, one which escaped the wrecking ball thanks in part to a 1942 children's book. Riverside Drive Overlook, 11 Oct.
Underground Manhattan, The History of the NYC Subway System: Explore the oldest subway stations in New York City working up from Brooklyn Bridge/City Hall station to Grand Central. Municipal Building, 12 Oct.
The Art of Making Pitorro, A Tour, Tasting, & Workshop: Get ready to follow a master distiller through the process of (legally) creating Pitorro — a form of Moonshine native to the island. Port Morris Distillery, The Bronx.
Rob Delaney: After talking his Amazon series Catastrophe at the New Yorker Festival with critic Emily Nussbaum, he will stick around the city to do a standup show. The Bell House, Brooklyn, 12 Oct.
The New Yorker Festival: What started in 2000 as a way to celebrate The New Yorker'sseventy-fifth anniversary has become a landmark cultural event. Various locations and prices, 11-13 Oct. Standouts include:
Paul Rudd talks with Michael Specter, 12 Oct., 7pm
Master Class: Teju Cole and Zadie Smith, 13 Oct., 4:30pm
Treasures from the New Yorker Archive, 11 Oct., 7pm: A viewing of historical items from the magazine's history,
Florence + the Machine talk with John Seabrook and perform live, 11 Oct., 10pm
Sarah Silverman talks with Andrew Marantz, 12 Oct., 10pm
MoMA90 Party: Celebrate the reopening with a festive evening — complete with drinks, music, and access to all galleries. MoMa, 11 West 53rd St., 12 Oct., 7pm, for Members at $180 or above.
Magic Tour & Demo @ Fantasma Magic's Harry Houdini Museum: Onthe fourth floor of a midtown office building sits a magic shop with one of the world's largest collections of Harry Houdini artifacts. Fantasma Magic, 13 Oct.
Exploring the Remnants of Five Points, NYC's Notorious 19th-Century Slum:Back in the 19th century, the neighborhood of Five Points was described by Charles Dickens as where "poverty, wretchedness, and vice are rife." New York City Civil Court (Outside), 13 Oct.
The Gilded Age Mansions of Cook Block: Over 150 years ago, one man bought an entire city block on the Upper East Side and made it impossible to build anything other than a mansion East 78th Street and 5th Ave., 13 Oct.
Exploring Van Cortlandt Park, From Hidden Cemetery to Railroad Remnants: A thousand acres of ridges and valleys, a quiet oak forest teeming with wildlife, 300 hundred years of historic remnants and artifacts...at the end of the 1 train Broadway & 242 St Entrance, Bronx, 13 Oct.
Thalia Book Club presents No Stopping Us Now: In her lively social history of American women and aging, acclaimed New York Times columnist Gail Collins illustrates the ways in which age is an arbitrary concept. Symphony Space, 15 Oct.
Book Culture presents Adrienne Brodeur, Wild Game: My Mother, Her Lover, and Me: A daughter's tale of living in the thrall of her magnetic, complicated mother, and the chilling consequences of her complicity. Book Culture on Columbus, 15 Oct.
Books Are Magic presents Elizabeth Strout, Olive, Again: Bestselling author and Pulitzer Prize winner Elizabeth Strout continues the life of her beloved Olive Kitteridge. St. Francis College, 15 Oct.
Thalia Book Club presents John Hodgman, Medallion Status: The beloved comedian and New York Times bestselling author of Vacationland examines status, fame, and identity in his latest book, Medallion Status: True Stories from Secret Rooms. Symphony Space, 16 Oct.
Ben Crump presents Open Season: Legalized Genocide of Colored People: Ben Crump, one of the most distinguished civil rights attorneys working today, reflects on the landmark cases he has battled and offers a disturbing look at how the justice system is used to promote injustice. Congregation Beth Elohim, 16 Oct.
Books Are Magic presents Cyrus Grace Dunham, A Year Without a Name:For as long as they can remember, Cyrus Grace Dunham felt like a visitor in their own body. The chrysalis of gender transition, St. Ann & the Holy Trinity Church, 18 Oct., 7pm, from $10.
FALL SPORT
v. Toronto Raptors, 18 Oct., 7:30pm
v. Minnesota Timberwolves, 23 Oct., 7:30pm
v. New York Knicks, 25 Oct., 7:30pm
v. Indiana Pacers, 30 Oct., 7:30pm
v. Edmonton Oilers, 12 Oct., 1pm
v. Vancouver Canucks, 20 Oct., 1pm
v. Arizona Coyotes, 22 Oct., 7pm
v. Buffalo Sabres, 24 Oct., 7pm
v. Boston Bruins, 27 Oct. 7pm
v. Tampa Bay Lightning, 29 Oct., 7:30pm
Mandolinist Chris Thile's show Live from Here, kinda rocks. See it live
FALL CONCERT
Songkick, Ticketfly or Bowery Presents
The Head and the Heart: 4 Oct., Kings Theatre
The Avett Brothers + Lake Street Dive: 5 Oct., Barclays Center
Sturgill Simpson: 6 Oct.,Music Hall of Williamsburg
Phil Collins: 6 Oct., Madison Square Garden
Chance the Rapper: 8 Oct., Madison Square Garden
Bombay Bicycle Club: 8 Oct., Brooklyn Steel
Madonna: 10-12 Oct., BAM, Gilman Opera House
Bon Iver w/ Yo La Tengo: 13 Oct., Barclay's Center
Live From Here with Chris Thile, Trey Anastasio: 12 Oct., Town Hall
Wilco: 12 Oct., Radio City Music Hall; 13 Oct, Brooklyn Steel
COIN: 15 Oct., Brooklyn Steel
Kasey Musgraves: 15-16 Oct., Radio City Music Hall
Natasha Bedingfield:16 Oct., Webster Hall
Steely Dan: 15-22 Oct., Beacon Theatre
Preservation Hall Jazz Band: 24 Oct., Town Hall
Jenny Lewis: 24 Oct., Kings Theatre
Live from Here with Chris Thile w/Paul Simon & Rachael Price: 26 Oct., Town Hall
Sleater‐Kinney: 30 Oct., Kings Theatre; 31 October, Hammerstein Ballroom
See Kuchipudi dancer, Shantala Shivalingappa perform Akasha in the classical South Indian dance style, steeped in five solos inspired by ancient Hindu poems brought to life with four master musicians. At the Joyce.
THEATRE
American Moor: A play about performing "Othello" but also, in a way, about being Othello.Cherry Lane, thru 5 Oct.
Derren Brown, Secret: Two-time Olivier Award winner Derren Brown has mesmerized people worldwide with his unique brand of mind reading, persuasion, and psychological illusion. Cort Theatre, thru 4 Jan.
Bella Bella: Harvey Fierstein becomes New York City's very own political firebrand, Bella Abzug, on the eve of her bid to become New York State's first female Senator. City Center Stage I, thru 1 Dec.
For Colored Girls Who Have Considered Suicide/When The Rainbow Is Enuf: Filled with passion, humor, and raw honesty, legendary playwright/poet Ntozake Shange's form-changing choreopoem tells the stories of seven women of color using poetry, song, and movementin a world shaped by sexism and racism. The Public, 8 Oct. through 17 Nov.
David Byrne's American Utopia: A seamless combination of interpretive dance, dramatic lighting, unbridled energy and infectious songs, all performed by a tribe of 12. Hudson Theatre, 11 Oct. through 19 Jan.
DANCE
Shantala Shivalingappa: This Kuchipudi dancer brings her work Akasha to offer audiences vivid interpretations of the classical South Indian dance style.. The Joyce, 8-12 Oct.
Ballet X: The New York premiere of Annabelle Lopez Ochoa's The Little Prince, a full-length ballet performed to the live music of composer Peter Salem. The Joyce, thru. 6 Oct.
One of the scenes from Jacolby Satterwhite's You're at home, an immersive environment revolving around universes derived from American consumerism, African folklore, ritual, and personal narratives. At Pioneer Works in Brooklyn,
CANVAS
JR,Chronicles:The first major exhibition in North America of works by the French-born artist who loves spaces.Brooklyn Museum, thru 3 May, $16.
Nicholas Moufarrage, Recognize My Sign: During a career that lasted just over a decade, Moufarrage created an original and idiosyncratic body of embroidered paintings. Queens Museum, 6 Oct. thru 16 March.
Queens Museum, The Art of Rube Goldberg: The first comprehensive retrospective exhibition since 1970 to celebrate the groundbreaking artwork of one of the most influential cartoon illustrators of the twentieth century. Queens Museum, New York City Building, 6 Oct. through 9 Feb.
The Pencil is a Key, Drawings of Incarcerated Artists: An exhibition of historical and contemporary drawings by incarcerated people from all over the globe, The Drawing Center, 11 Oct. thru 5 Jan.
TM Davy: autobiographical paintings and collages whose primary subject is the artist's day-to-day life with his partner Liam, including portraits, domestic scenes, and still life and garden paintings. Van Doren Waxter, thru 17 Oct.
Leonhard Hurzlmeier, Told Tales: Marking a departure from his usual motifs often focused on women, Hurzlmeier moves into large-scale symbolic compositions imbued with socio- political connotations, while staying true to his geometric and hard-edged painterly style. Rachel Uffner Gallery, thru 3 Nov.
Jacolby Satterwhite, You're at home: An immersive environment revolving around the artist's digitally-animated series Birds in Paradise, which constructs mythological, queer universes derived from American consumerism, pop culture, African folklore, ritual, and personal narratives. Pioneer Works, Brooklyn, thru 24 Nov.
Hayv Kahraman, Not Quite Human: Collage work that addresses the marginal spaces of diasporic life, migrant consciousness and concepts of gender through her personal history as an Iraqi émigré to Europe Jack Shainman, thru 26 Oct.
Aliza Nisenbaum, Coreografías: The Mexican-born and New York-based activist and painter presents a new body of individual and group portrait paintings. Anton Kern, thru 2 Nov.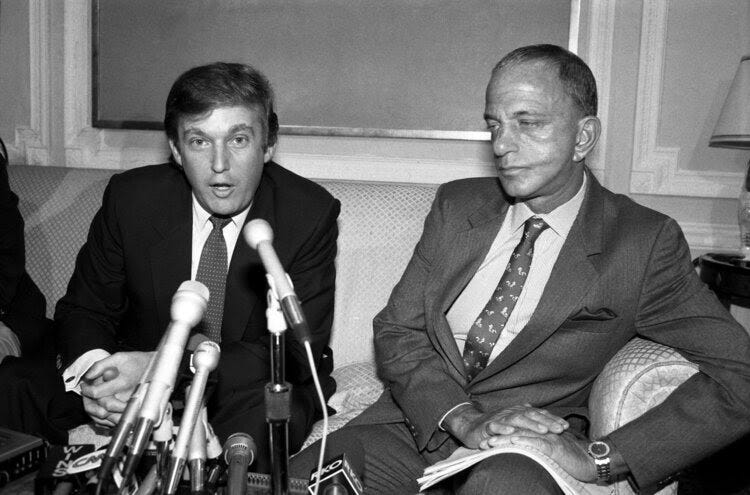 Roy Cohn, the ruthless lawyer and political power broker, had a career as chief counsel to Senator Joseph McCarthy to molding the career of a young Queens real estate developer named Donald Trump. See Where's My Roy Cohn?
CINEMA
NYFF57: he 57th annual New York Film Festival will introduce the most essential new cinematic works from around the world to U.S. audiences. Among others, see films likeThe Irishman, Scorsese's epic of American crime; Noah Baumbach's Marriage Story about the rapid tangling and gradual untangling of abiding love; and Edward Norton's adaptation of Lethem's Motherless Brooklyn. Film Society of Lincoln Center, 26 Sept. through 13 Oct. Films and Tickets.
Pain and Glory: Pedro Almodóvar's film that tells the story of a series of reencounters experienced by Salvador Mallo, a film director in his physical decline. Angelika, West Village.
Judy: Winter 1968. Showbiz legend Judy Garland arrives in Swinging London to perform a five-week sold-out run at The Talk of the Town. It is 30 years since she shot to global stardom in The Wizard of Oz, but if her voice has weakened, its dramatic intensity has only grown. Angelika, West Village.
Celebration: Away from view, Yves Saint Laurent draws his latest sketches surrounded by those who have always supported him. Behind the scenes Pierre Bergé orchestrates a succession of celebrations dedicated to turn the icon into a myth. Film Forum, SoHo.
Memory, the Origins of Alien: Unearths the largely untold origin story behind Ridley Scott's cinematic masterpiece, and reveals a treasure trove of never-before-seen materials from the archives. Cinema Village, East Village.
On the President's Orders: The searing story of President Duterte's bloody campaign against drug dealers and addicts in the Philippines, told with unprecedented and intimate access to both sides of the war. Cinema Village, East Village.
Hustlers: A crew of savvy former strip club employees band together to turn the tables on their Wall Street clients. Village East Cinema, East Village.
The Parts You Lose: Wesley, a young deaf boy, is frequently bullied at school, but one day, he finds a strange man bleeding and helps him. After a police officer visits his house, Wesley must choose between his loyalty to a dangerous stranger, and his understanding of right and wrong. Village East Cinema, East Village.
Honeyland: Hatidze Muratova is the last in a long line of Macedonian wild beekeepers. Her peaceful existence is thrown into upheaval by the arrival of an itinerant family; it doesn't take long before Hussein, the itinerant family's patriarch, develops an interest in selling his own honey. Quad Cinema, West Village.
Low Tide: On the New Jersey shore, high schooler Alan and his friends break into vacation homes to steal valuables, funding dates at the boardwalk. When Alan and his younger brother Peter find a bag of gold coins, they try to hide them from the others. Quad Cinema, West Village.
Loro: The life and times of scandal-plagued Silvio Berlusconi have long-demanded a screen depiction, and who else to deliver it than Paolo Sorrentino, the director of The Young Pope. IFC Center, West Village.