NY*Confidential What's On: The Rebel Without a PAUSE Edition
A photograph of Steve "ESPO" Powers' mural on boarded up windows in Soho called "Life Drawing in Quarantime."
Greetings NY*Confidants,
Here we are again, Week 8 or 9 of COVID-19 lockdown. And still, people are coming up with new and inventive ways to creatively tackle the pandemic crisis, inside and out. Renown photographers James and Karla Murray have been posting videos on their YouTube channel of walks through New York's empty streets. The latest video, "Graffiti & Empty Streets" shows just that, with artist Steve "ESPO" Powers working on a mural on boarded up windows in Soho called "Life Drawing in Quarantime." Check out his other murals "R.E.D" for Pier 40, as well as a series of "Love Letters" for Brooklyn, as well as storefront space in Brooklyn near the Barclays Center — when you need a window-shopping walk.
If you are more inclined to stay in, Untapped Cities now has a YouTube channel! Among the highlights: a look at Dead Horse Bay in Brooklyn, exploring the Domino Sugar Factory, "Rise and Fall of Penn Station," "The Forgotten Plague" and the sights and sounds of the Fulton Fish Market.
For your kids: Since 2011, the Bronx Museum of the Arts' Teen Council has organized an exhibition of teen art at the Museum. This year, the exhibit goes online. Deadline to submit to Reverse Reverse // Bring It Back Bring It Back, A Virtual Teen Art Exhibition is Sunday, 10 May 2020. If one needs a prompt their child, here is Surrealist games, a book that explores the provocative methods used by the artists of the Surrealist school.
Finally, sad news in the world of music. First, the Pitchfork Festival has been canceled. And Florian Schneider, a founding member of Kraftwerk, has died from cancer at age 73. RIP Kraftwork. Here is a clip from one of their famous MoMA concerts.
Rain, shine or global pandemic NY*Confidential is now in your inbox every week (during the pandemic).
Portions of What's On: NY*Confidential reside on www.nyconfidant.com.
Facebook: https://www.facebook.com/NYConfidential/
Pass it on and support the artistic community. We do it for love, but must survive.
Journey through the three waves of artistic rebellion in New York, including the Ashcan School, best known for works portraying scenes of daily life in New York.
BOOK READINGS, TOURS + PERFORMANCE, ETC.
UNLESS STATED, EVENTS ARE FREE, BUT REGISTRATION REQUIRED
Inaugural Virtual StorySLAM (Firsts): Prepare a five-minute story about your maiden voyage into uncharted territory. Wax on about your first: child, crisis of conscience, job, pet, toupee, trip overseas or fist fight. 7 May, 7pm. See website.
BookCulture Presents Ann Napoitano, Dear Edward: One summer morning, 12-year-old Edward Adler, his beloved older brother, his parents, and 183 other passengers board a flight in Newark. Halfway across the country, the plane crashes. Edward is the sole survivor. 7 May, 8pm.
Community Bookstore Presents Tori Amos, Resistance, A Songwriter's Story: Informed by a life of passion, activism, and engaged art-making, Amos's book offers guidance and advice in a time of global crisis. Q&A follows. 7 May, 7:30pm, $30, ticket price includes book.
Virtual Exploration of City College, Manhattan's 'Hogwarts': Explore the secret rooms, tunnels, and rooftops of one of the most impressive university campuses in New York from the comfort of home. 7 May, 5:30pm, $10.
Greenlight Bookstore Presents Ishmael Beah, Little Family: From the bestselling author of A Long Way Gone, comes a novel about young people living at the margins of society, struggling to replace the homes they have lost. 7 May, 7:30pm.
'The Untold History of Absinthe' Webinar: For nearly a century, absinthe was an illegal substance in America and most of the world, blamed for everything from hallucinations to violent rampages. Not anymore. 8 May, 6pm, $10.
Interactive Virtual Knitting 101 Workshop: Learn to Keep Calm & Knit On through this beginner's knitting adventure that provides the needed skills while uncovering its mental and physical health benefits. 11 May, 8pm, $10.
Virtual Exploration of Untermyer Gardens, 'America's Greatest Forgotten Garden': In 1916, lawyer Samuel Untermyer tasked architect William Bosworth with designing the "finest garden in the world" on his cliffside estate in Yonkers. For 40 years, this 150-acre formal garden became a horticultural wonder. See the story of its revival. 12 May, 5:30pm, $10.
'The Summer of Love: The 1967 Hippie Takeover of NYC' Webinar: Take a virtual journey back in time to explore New York City during the Summer of Love — a social phenomenon between May and October of 1967 that brought together over 100,000 people.12 May, 8pm, $10.
The Art of Real New York, Through the Eyes of NYC's Most Rebellious Artists: An art-centric journey through the three waves of artistic rebellion that occurred in New York between the 1880s and the beginning of World War II. 12 May, 1pm, $10.
Virtual Exploration of New York Society Library, NYC's Oldest Library: Explore a library dating back to 1754 that has been through it all, from getting looted by British soldiers during the American Revolution to George Washington lifting its books. 13 May, 8pm, $10.
The History of Film Through Antique 16mm Projector Short Films: Step back in time and see how the 16mm projector facilitated a film revolution and dominated the film industry for over 20 years. 15 May, 6pm, $10.
Delve into the worlds of Revolutionary and Civil War re-enactors with a in-house showing of How to Load a Musket thanks to 59E59 theatre.
THEATRE (NEW, ONLINE)
59E59 Plays in Place: 59E59 Theaters' has suspended all programming through the end of June, 2020, but some of its beloved plays are now online.
Bring the outside, inside with a virtual tour of MoMA's Sculpture Garden.
CANVAS (NEW)
MoMA Presents Virtual Views: Spring is the time of year the MoMA Sculpture Garden comes to life. Join Ann Temkin, Chief Curator of Painting and Sculpture, for a historic virtual tour of MoMA's urban oasis and live Q&A. 7 May, 8pm
Saul Steinberg, Imagined Interiors: Casting it as a philosophical investigation, Steinberg earned critical acclaim for his New Yorker covers as well as the people whose daily lives and customs became the subject of his art. Pace.
#CombatCovid: PSAs in NYC: In response to the COVID-19 pandemic, Poster House has teamed up with Print Magazine, Times Square Arts, and For Freedoms to launch a citywide public art campaign featuring PSAs in solidarity with New York City's frontline workers. Throughout New York City.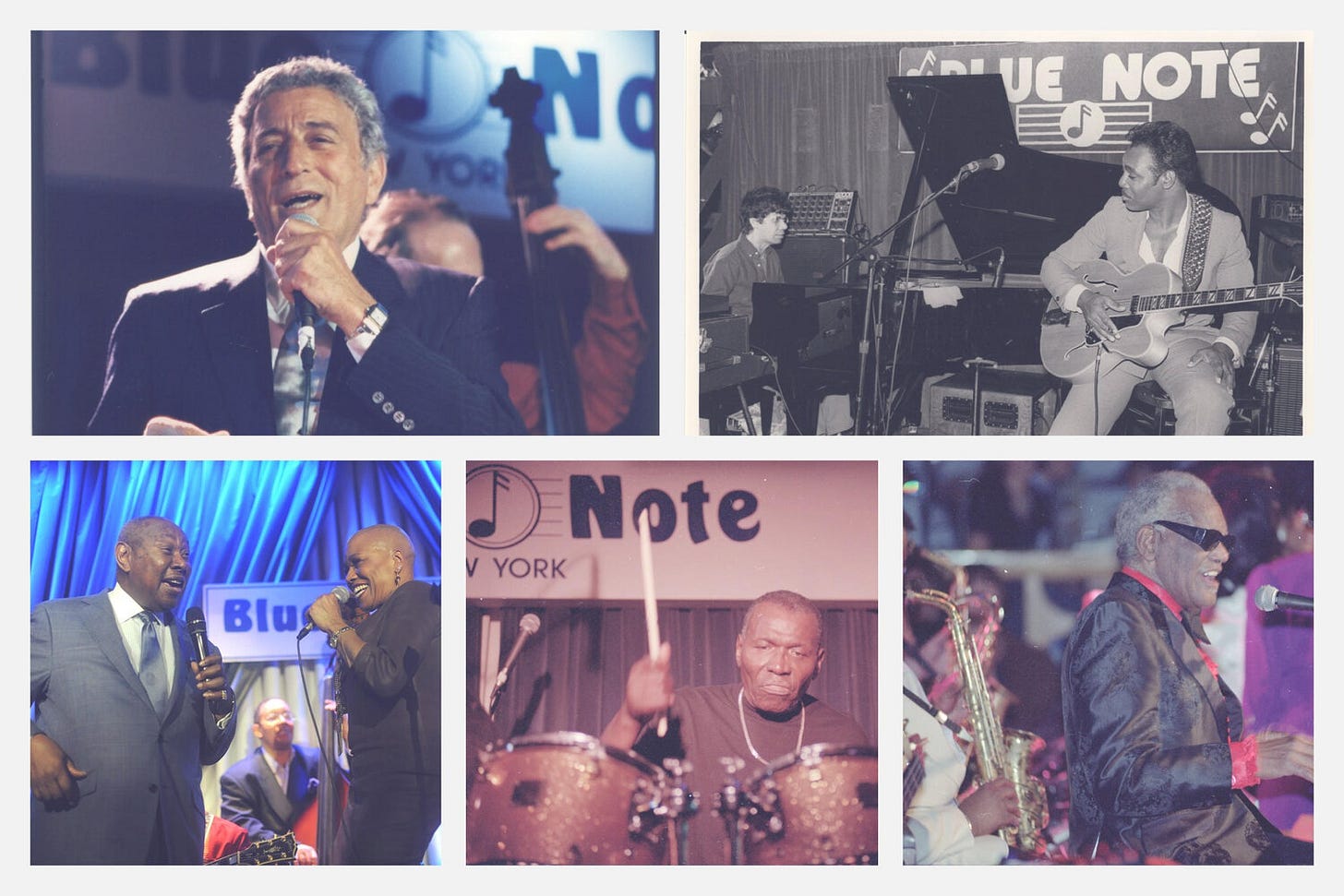 Jam out to a large archive of performances from the Blue Note Jazz Club.
MUSIC + COMEDY (STREAMING)
Blue Note Jazz Online: Blue Note Jazz Clubs are currently closed as a result of Covid-19. Its been spending time sorting through archives and putting online favorite memories from concert performances and more.
Pickathon Presents: A Concert A Day
Nathaniel Rateliff: 8 May, 4pm
Mac DeMarco: 7 May, 4pm
Erin McKeown: 7 May, 8pm; 10 May, 7pm
Badly Drawn Boy: 29 May, 4pm
Ani DiFranco: 12 July, 4pm
PODCASTS
The Kitchen Sisters Present The Keepers: The Kitchen Sisters (Davia Nelson & Nikki Silva) are the producers of two Peabody Award-winning NPR series. Now they have a podcast to tell stories from the b-side of history and people possessed by a sound, a vision, a mission. The Keepers, narrated by Frances McDormand.
RESCHEDULED CONCERTS
Ticketmaster, BoweryPresents, LiveNation
Lupe Fiasco Presents Food & Liquor: 28-29 June, Brooklyn Steel
Brian Fallon & the Howling Weather: 15 July, Town Hall; 16 July, Webster Hall
The Lone Bellow: 11 Aug., Webster Hall
Morrissey: 17 Sept., Hammerstein Ballroom
Josh Ritter: 22-23 Sept., Murmrr
The Revivalists: 30 Sept., Radio City Music Hall
The Dandy Warhols: 12 Nov., Music Hall of Williamsburg
Georges drops several thousand Euros on an Easy Rider–style, deerskin jacket, then starts experimenting with a mini-DV camcorder, enlisting the help of an aspiring film editor to assemble a most unusual docufiction in Deerskin.
NEW ON STREAMING THIS WEEK
Beanpole: 1945, Leningrad. World War II has devastated the city, leaving its citizens in tatters. Two young women, Iya and Masha, search for meaning and hope in the struggle to rebuild their lives amongst the ruins
Ordinary Love: Joan and Tom have been married for many years. An everyday couple with a remarkable love, there is an ease to their relationship. When Joan is diagnosed with breast cancer, her treatment shines a light on their devotion.
Saint Frances: Flailing 34-year-old Bridget finally catches a break when she meets a nice guy and lands a much-needed job nannying six-year-old Frances. But an unwanted pregnancy introduces an unexpected complication.
Films at Lincoln Center Virtual Cinema: Watch some of the best films of the year from home and support Film at Lincoln Center. Select new releases:
Human Rights Watch Film Festival: Streaming straight to the sofa this year.
Remember this guy? Or K-Swiss? Hear about the lifelong tennis journey during the Hall of Fame Live interview with Todd Woodbridge.
SPORTS
Tennis Hall of Fame Live: Last week, Tracy Austin gave fans the 411 on her favorite opponents and life as a young pro, Todd Woodbridge is up next.
Cary Leeds Tennis: From poaching to practical skills while holing up at home, Cary Leeds tennis pros have programming until a return to the courts.