NY*Confidential What's On: The Power + PRIDE Edition
A Self-Portrait by Jordan Casteel depicts the artist, her medium and her struggles with lupus before she became an artist-in-residence program at Harlem's Studio Museum.
NY*Confidants,
Normally, we would be celebrating Pride month, a month that all New Yorkers seem to love and revel in, whether LGBTQ+ or not. Instead, 50 years after Stonewall and 100 years after the initial sparks of the Civil Rights movement, Pride is backlisted as black and mixed-race Americans continue to fight for equal treatment in the streets.
With that in mind, NY*Conifidental is highlighting as much of the multi-racial experience as possible this newsletter starting with the work of Jordan Casteel in her first exhibit at the New Museum. Casteel's practice explores humanity, sexuality, identity, and subjectivity, and she has almost exclusively painted black subjects. A graduate of the Yale program of Fine Arts, she has been compared to painters Jacob Lawrence, Nancy Spero, and Henri Matisse. Casteel has said her intent is "to expose my vision of black men as a sister, daughter, friend and lover. That perspective is one full of empathy and love. I see their humanity and, in turn, I want the audience to engage with them…"
In the meantime, although it should not take a national tragedy to talk about and highlight black-owned and human rights-centered businesses, here are a couple of places to visit and places to donate to help the cause, including antiracist reading lists for both grown-ups and kids, and places for donations, including Bail Funds, Mutual Aid societies, Black-owned bookstores, and the NAACP, the Audre Lorde Project, and the Sylvia Rivera Law Project. Finally, a Pride month list for LGBTQ+ readers.
Portions of What's On: NY*Confidential reside on www.nyconfidant.com.
Facebook: https://www.facebook.com/NYConfidential/
Pass it on and support the artistic community. We do it for love, but must survive.
Get your kicks on 66 from classic roadside diners to desert ghost towns through the lens of one award-winning photographer.
BOOK READINGS, TOURS + PERFORMANCE, ETC.
Virtual Talk, Windows on the World, the Lost Culinary Marvel: Untapped New York tour guide, John DeSanto will share his story as one of the first servers to open the restaurant to his rise to wait-staff captain during a 10-year career that spanned New York's most tumultuous times. 4 June, 12pm.
'The Lost + Forgotten Gilded Age Mansions of Fifth Avenue' Webinar: The story from the first residence on the still unpaved street in 1834, to the prominent families that once defined New York's most famous avenue. 4 June, 5:30 pm, $10.
Virtual Talk, Secrets of the High Line: "Walk" the length of the High Line from the Whitney Museum past the Chelsea Market and the Empire State, hopping from season to season and seeing highlights along the way. 4 June, 12pm.
'The Secrets of TriBeCa: Lofts, Artists, & Alleyways' Webinar: Known today for its namesake film festival, celebrity sightings and high-end homes, it was anything but for nearly 300 years. This is the real story of the sailors, merchants, and artists that once called the neighborhood home. 5 June, 1 pm, $10.
Best of the New York Guitar Festival, including Kaki King, Sharon Isbin: Exploring virtually every aspect of the guitar's personality, the New York Guitar Festival has presented many of the world's most influential guitarists at iconic venues across the city for more than 20 years. 5 June, 4pm.
The Ultimate Virtual Wine Crash Course with Sommelier Amy Karasavas: While some people spend their lives trying to understand everything about wine, one NYC-based sommelier has a crash course on the basics: 5 June, 8pm, $10.
Underground Manhattan, The History of the NYC Subway System: Explore the oldest subway stations in New York City working up from Brooklyn Bridge/City Hall station to Grand Central Terminal. Includes the art, architecture and secrets hiding in plain sight. 9 June, 8pm, $10.
Community Bookstore Presents NYRB Discussion of Cyprian Ekwensi's People of the City, with Emmanuel Iduma: Ekwensi's early masterpiece is the tale of Amusa Sango, a young man who travels from the country to the big city, where he means to make a career as a crime reporter while leading a dance band. Iduma is the author of A Stranger's Pose, a book of travel stories. 9 June, 6pm.
'The Great Brooklyn Sugar + Coffee War' Webinar: At the turn of the 20th century, no two were more powerful than Coffee King John Arbuckle and Sugar King Henry Osborne Havemeyer, as 86 percent of the nation's coffee and 98 percent of its sugar were roasted and refined in Brooklyn. But when Arbuckle decided to also get into the sugar industry, the Great Brooklyn Sugar + Coffee War began. 9 June, 1pm, $10.
Exploring the Remnants of Five Points, NYC's Notorious 19th-Century Slum: Back in the 19th century, the neighborhood of Five Points was internationally known as one of the world's most notorious slums, described by Charles Dickens as where "poverty, wretchedness, and vice are rife." 10 June, 1pm, $10.
Books Are Magic Presents Alysia Li Ying Sawchyn, A Fish Growing Lungs: At age 18 Alysia Sawchyn was diagnosed with bipolar. Seven years later she learned she had been misdiagnosed. A Fish Growing Lungs is made up of essays that reflect on Sawchyn's diagnosis and its unraveling, the process of recovery and the search for identity. 10 June, 7pm.
Virtual Road Trip Down Route 66 with Pro Photographer Julien McRoberts: From classic roadside diners to desert ghost towns, explore the bygone era of one of America's most famous highways, through the lens of one award-winning photographer. 11 June, 8pm, $10.
Community Bookstore Presents Magnetized with translator Samuel Rutter: Over the course of one ghostly week in September 1982, the bodies of four taxi drivers were found in Buenos Aires. The assailant: a 19-year-old boy, odd and taciturn. More than 30 years later, Busqued began visiting Ricardo Melogno, the serial killer, in prison. 11 June, 7:30pm.
Virtual Murder Mystery with the Mount Vernon Hotel Museum: An unidentified skeleton has been discovered at the Mount Vernon Hotel. Who was killed? Work with your team of fellow detectives to unravel the mystery. 12 June, 8pm, $10.
Drink + Draw, Learning to Draw Letters Like a Pro: Chad Jey will detail the background and art form of lettering and sign painting, including structure, different lettering forms and styles. Then jump into lettering. 13 June, 5:30pm, Donation.
Virtual Animal Meet & Greet with the Staten Island Zoo: A virtual trip to Staten Island Zoo, which contains more than 1,100 animals, and over 350 species from six of the world's seven continents. 16 June, 3pm, $10.
'Spy City: The History of Espionage in New York City' Webinar: "Upon Secrecy, Success Depends," or so said George Washington. From the Revolutionary War to the present day, covert ops have flourished in the five boroughs of Spy City. 17 June, 1pm, $10.
Books Are Magic Presents Madeline Miller, Circe: In the house of Helios, a daughter is born. But Circe is not powerful, like her father, nor alluring like her mother. Zeus banishes her to a deserted island, where she hones her craft, ultimately finding herself pitted against one of the most terrifying of the Olympians. 17 June, 7pm.
Virtual Speed Dating with Littlefield + Filter Off: Create authentic connections during your quarantine! Buy a ticket, download the Filter Off app and set up pre-selected dates. At the event, participants have 100 seconds to connect on a FaceTime-style video. 18 June, 8pm, Donation.
NY Adventure Club Virtual Group Trivia Night: A virtual group trivia night that pits teams against one another to answer questions from diverse topics and themes. 19 June, 8pm, $10.
Tony Award winner Nathan Lane stars in Douglas Carter Beane's dark comedy about a gay burlesque performer facing a changing world. See it online during Lincoln Center's Broadway Fridays.
THEATRE + DANCE + PODCASTS
Broadway Fridays: Online streams of select Live From Lincoln Center broadcasts featuring Broadway productions. A different performance released every Friday and remain available on demand. Initial broadcasts include Rodgers and Hammerstein's Carousel, Douglas Carter Beane's The Nance, and James Lapine's Act One. 8pm, 5 June.
Homebound Project: Founded by playwright Catya McMullen and director Jenna Worsham, theater made to support those working on the front lines of this crisis. Pick-your-own ticket prices ($10 min) grants access to online performances of new works by leading writers of American theater.
Offstage, Opening Night: Celebrate the Broadway Season that was (and will be) with Patti LuPone and the cast of "Company"; Mary-Louise Parker from "The Sound Inside"; Jeremy O. Harris, the creator of "Slave Play"; and Elizabeth Stanley of "Jagged Little Pill." 11 June, 7pm.
Dance Africa: This year, BAM celebrates DanceAfrica with a series of digital offerings, paying special tribute to the incredible people who have shaped this festival over its rich 42-year history. Through 14 June.
Mark Morris Dance Group, Dance On!: An online event premiering four short video dances by Mark Morris, choreographed and rehearsed for the first time entirely via Zoom videoconference. The new works include: Lonely Waltz, to Maurice Ravel's La Valse; Sunshine recorded by Gene Autry; Lonely Tango; and Anger Dance set to the music of Henry Cowell. Streaming.
Jordan Casteel, Within Reach brings together 40 paintings spanning her career, including works from her celebrated series Visible Man (2013–14) and Nights in Harlem (2017), along with recent portraits at New Museum thru 1 Sept.
CANVAS
MoMA Presents Virtual Views, Arthur Jafa's akingdoncomethas: More than 100 minutes of Black church services channeling his "belief in Black people believing." The title references "A kingdom cometh as," which is a millennial Christian expression for life after catastrophe, and for our community to come together in ritual and action. 4 June, 8pm; 9 June, 3pm.
MoMA Presents Virtual Views, The Starry Night: Dive into one of MoMA's — and the world's —most beloved and iconic paintings. Join us for a live Q&A about the painting inspired by the view from his window at the Saint-Paul-de-Mausole asylum in Saint-Rémy, where the artist spent 12 months in 1889–90 seeking reprieve from his mental illnesses, is both an exercise in observation and a clear departure from it. 11 June, 8pm.
Jordan Casteel, Within Reach: Bringing together nearly forty paintings spanning her career, including works from her celebrated series Visible Man (2013–14) and Nights in Harlem (2017), along with recent portraits of her students at Rutgers University-Newark, Within Reach will be Jordan Casteel's first solo museum exhibition in New York City. New Museum, thru 1 Sept.
Guggenheim Works + Process Artists (WPA) Virtual Commissions: Each under five minutes, virtual performances that spotlight leading creators in the performing arts, each from the intimacy of their home. New commissions posted every Sunday and Monday, Facebook, Instagram, and YouTube (@worksandprocess), 7:30pm.
In 2010, folk-singer and songwriter Zoe Boekbinder visited New Folsom Prison and began collaborating with incarcerated musicians. This was the seed for the Prison Music Project and the album, Long Time Gone, produced by Ani DiFranco and releasing 5 June.
MUSIC + COMEDY (STREAMING)
KT Tunstall: 4 June, 3pm
Ani DiFranco, Prison Music Project Sessions: 5 June, 9pm.
Diane Birch, Church of Birch: 7 June, 3pm.
SummerStage Anywhere: SummerStage will not take place in May and June, per City restrictions. In the meantime, new live performances and original content are on the website every week.
Whitney: 4 June, 8pm
Policing the Police follows Jelani Cobb, a journalist for The New Yorker, as he examines some of the inner workings of the Newark Police Department — whose practices were cited as unconstitutional in a 2014 report from the Justice Department.
CINEMA (STREAMING)
Policing the Police: Frontline documentary first aired in 2016, examining some of the inner workings of the Newark Police Department — whose practices were cited as unconstitutional in a 2014 report from the Justice Department — and follows Jelani Cobb, a journalist for The New Yorker. PBS.
Human Rights Watch Film Festival: For 31 years, the HRW Festivalhas been presenting a diverse and empowering selection of films to audiences across the world. Now online with screenings and Q&A. If the price of a ticket is prohibitive, email (filmticket@hrw.org) to receive a free ticket code.
The High Note: Set in the LA music scene, Grace Davis is a superstar whose talent and ego have reached unbelievable heights. Maggie is Grace's overworked personal assistant who aspires to be a music producer. When Grace's manager (Ice Cube) presents her with a choice, Maggie and Grace come up with a plan. Amazon Prime.
On the Record: The story of music executive Drew Dixon as she grapples with her decision to become one of the first women of color, in the wake of #MeToo, to come forward and publicly accuse hip-hop mogul Russell Simmons of sexual assault. HBO/Max.
Circumstantial Pleasures: Lewis Klahr, known for his acclaimed collage animations, is best known for his seductive and piercing examinations of midcentury materials and music. A feature-length collection of six short films that see his focus swerve toward the contemporary. Free via Wexner Center for the Arts
I'm No Longer Here: A small street gang named "Los Terkos" spend their days listening to cumbia music and attending dance parties. Ulises, the leader, tries to protect his friends from the nefarious elements of a drug/political war, but is forced to leave for Jackson Heights, Queens — until his gang and the Kolombia culture comes under threat. Netflix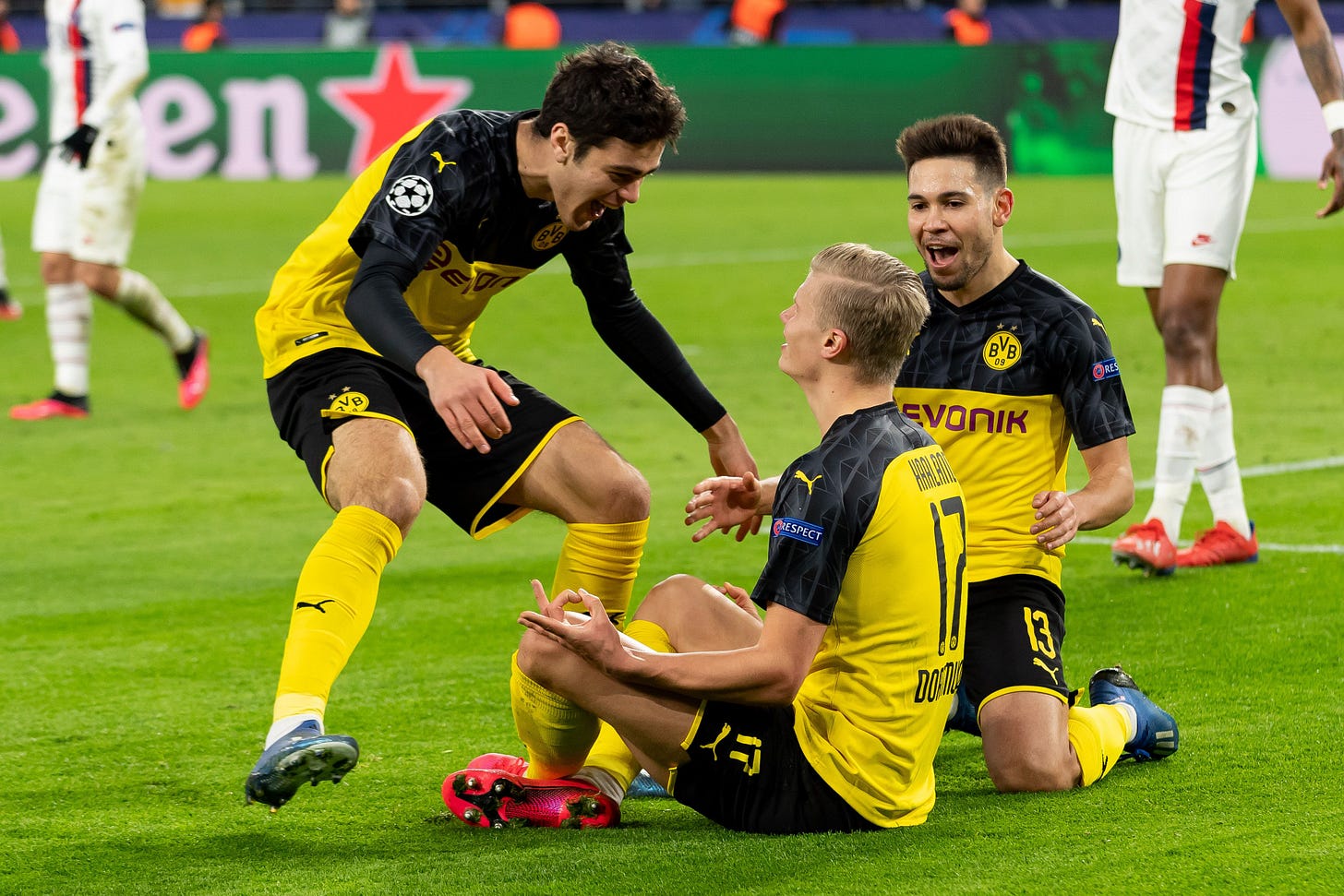 Soccer has returned to NBC Sports. The Bundesliga is playing matches without fans. But it's something. Tune in just in time for the season's end.
SPORT
Bundesliga: With five matches left to be play of the 2019/20 Bundesliga season and the relegation places still to be decided, the heat is well and truly on for the likes of Paderborn, Werder Bremen and Fortuna Düsseldorf.. bundesliga.com weighs up the prospects of the the seven clubs sailing closest to the relegation wind.
French Open, A Tribute: In 1980, the Fédération Française de Tennis partnered with Galerie Lelong & Co. to begin a series of annual poster designs with commissioned works by contemporary artists from around the world. Through these diverse art pieces, the creators demonstrate how the sport of tennis itself can be an art. Online, Int'l Tennis Hall of Fame.
When the Tennis Stopped: This is only the third time in history where tennis has had a stoppage of play. When the Tennis Stopped, the latest from the International Tennis Hall of Fame explores the other two times with ITHF historian-at-large Joel Drucker.
Tennis Hall of Fame Live: Hosted by Blair Henley every Thursday on the International Tennis Hall of Fame Facebook Page, Hall of Fame Live brings you into the conversation with tennis legends! This week, Safit Marin, and last week, Mary Pierce.
Cary Leeds Tennis: From poaching to practical skills while holing up at home, Cary Leeds tennis pros have programming until a return to the courts.