NY*Confidential What's On: The Mario Cuomo "Scout in Place" Edition
Homemade drawings for an imaginary "Scout in Place" program, in which New York citizens can earn badges for completing certain tasks. By Adrian Brune your newsletter creator.
Dear NY*Confidants,
Ok, well, it's not a real program. Sometimes, we all have to use our imaginations and do creative things, like take up humorous drawings and imagine earning badges for the things we do during the Covid-19 pandemic. There has to be some reward, right? Personally, the drawing has been keeping me sane. So if you think you deserve a badge for something you did, send your info to me at ambrune@gmail.com and I will draw a badge for you.
Here are some other ideas to keep us all going:
Free writing workshops with NYWC: The NY Writers Coalition is conduction free virtual creative writing workshops — no experience is necessary, and writers of all levels of experience are welcome.
The 92Y: Featuring online classes from "An Online Masterclass on Social Change with Cass Sunstein and Samantha Power" to Writing and Drawing 101.
BRIC Brooklyn: BRIC offers mostly video and media classes, but take this time and cut a movie about life around you.
Finally, inspire your children with Live Saturday Story Time at Greenlight books where kids and families can hear awesome authors read from their books, ask questions via Chat, and get ideas for new activities
Rain, shine or global pandemic NY*Confidential is now in your inbox every week (during the pandemic).
Portions of What's On: NY*Confidential reside on www.nyconfidant.com.
Facebook: https://www.facebook.com/NYConfidential/
Pass it on and support the artistic community. We do it for love, but must survive.
In case you could never really discern Tori Amos' sentiments from her music, now you have her memoir to read. Virtual book discussion on 7 May.
BOOK READINGS, TOURS + PERFORMANCE, ETC.
UNLESS STATED, EVENTS ARE FREE, BUT REGISTRATION REQUIRED
NYPL and WNYC's Virtual Book Club: Presented as part of "Get Lit," from WNYC's weekday arts and culture show All of It, the club debuts with a group reading experience of James McBride's new book, Deacon King Kong, a hilarious and deeply human tale set in 1969 Brooklyn. 30 April, 7pm
'The Bowery: Rise, Fall, & Resurgence of NYC's Oldest Street' Webinar: For over four centuries, the Manhattan corridor of the Bowery has been a Native American trail and a shadowland of hard-knuckle saloons, among other things. The story of the city's most storied neighborhood. 30 April, 7pm, $10.
Nerd Nite: back for its first virtual Nerd Nite in tandem with littlefield. Login for two funny-yet-smart presentations about our national parks and the law of the Marvel cinematic universe. Trivia will be sprinkled in too. 30 April, 7pm.
Books Are Magic Presents Kristen Arnett, Mostly Dead Things: In the wake of her father's suicide, Jessa has stepped up to manage his failing taxidermy business while the rest of the Morton family crumbles. A string of unexpected incidents begins to open up surprising possibilities and second chances. 1 May, 7pm.
New York Adventure Club Trivia Night: Led by trivia host and licensed NYC tour guide Kyle Sallee, this virtual knowledge royale will feature four rounds of ten questions each, and teams of six people or less. 1 May, 8pm, $10.
'Uncovering the True Origins of Baseball' Webinar: With baseball season metaphorically in full swing, learn about the origins of one of America's greatest pastimes, and explore its humble beginnings in the heart of Manhattan. 3 May, 8pm, $10.
'Underground Manhattan, The History of the NYC Subway System' Webinar:You once rode it every day, but how much do you really know about New York City's subway system? Explore one of the oldest and largest public transit systems in the world. 4 May, 8pm, $10.
Books Are Magic Presents Matt Gallagher. Empire City:Former U.S. Army captain Matt Gallagher is the author of the novel Youngblood, as well as the Iraq memoir Kaboom and coeditor of the short fiction collection Fire & Forget: Short Stories from the Long War. 4 May, 7pm.
Books Are Magic Presents Emma Straub, All Adults Here: When Astrid Strick witnesses a school bus accident in the center of town, it jostles loose a repressed memory. Astrid realizes she was not quite the parent she thought she'd been to her three, grown children. But to what consequence? 4 May, 7pm.
Virtual Animal Meet & Greet with the Staten Island Zoo: A virtual trip to Staten Island Zoo — the biggest "little" zoo in America, which contains over 350 species of mammals, amphibians and invertebrates from six of the world's seven continents. 5 May, 3pm. $10.
'History of Jazz in NYC' Webinar & 78rpm Listening Party: The 3rd of a seven-part series. After New York's introduction to vaudeville and the blues craze, Harlem has officially become the mecca of jazz by 1925. 5 May, 8:30pm. $10.
'Freshkills Park, World's Largest Landfill-to-Park' Webinar: A virtual exploration of Freshkills Park — originally a 2,200-acre landfill — that will become the largest park developed in New York City in over 100 years once complete. 6 May, 1pm, $10.
Posterhouse Presents Online Watch Party & Director Talkback, Helvetica:Produced and directed by Gary Hustwitt, Helvetica is a feature-length documentary that confronts the complex development of typeface and graphic design. 6 May, 6:30pm.
Virtual Road Trip of Vintage & Quirky USA: Take a road trip through the off-the-beaten-path — from the country's best-preserved ghost town to Elvis in his Sunday Best. 6 May, 5:30pm, $10.
Powerhouse Presents Virtual Book Launch, The Faking of the President: With a humorous nod to "fake news" in today's political landscape, 19 award-winning, diverse authors offer new stories of past presidential antics that confirms absolute power absolutely corrupts. 6 May, 7pm.
Community Bookstore Presents Tori Amos, Resistance, A Songwriter's Story: Informed by a life of passion, activism, and engaged art-making, Amos's book offers guidance and advice in a time of global crisis. Q&A follows. 7 May, 7:30pm, $30, ticket price includes a book via snail mail.
Virtual Exploration of City College, Manhattan's 'Hogwarts': Explore the secret rooms, tunnels, and rooftops of one of the most impressive university campuses in New York City and the nation, all from the comfort of your living room. 7 May, 5:30pm, $10.
Inaugural Virtual StorySLAM (Firsts): Prepare a five-minute story about your maiden voyage into uncharted territory. Wax on about your first: standing ovation, miserable failure, kiss, child, crisis of conscience, job, pet, toupee, trip overseas, exorcism, internet date, grandchild or fist fight. 7 May, 7pm. See website for storytelling details.
Christopher Wheeldon, acclaimed choreographer, adapted Shakespeare's last story for the ballet. A Winter's Tale makes its online debut on 1 May.
THEATRE (NEW, ONLINE)
Marie's Crisis: The coronavirus crisis has forced the beloved West Village piano bar to close its doors. But every night on Facebook the talented pianists who would normally be playing at the bar will be live-streaming their sets to audiences at home.
DANCE (NEW, ONLINE)
The Bright Stream: A group of ballet dancers have been sent to provide sophisticated entertainment to a new Soviet collective farm. After some complicated amorous intrigues, it turns out that the farmers have more to teach the city-folk. Bolshoi Ballet, 3 May.
The Winter's Tale: King Leontes, possessed by a mad jealousy, believes his pregnant wife Hermione to be having an affair with his childhood friend King Polixenes. His actions tear their families apart. Christopher Wheeldon created this adaptation of Shakespeare's late great romance. Royal Ballet, 1 May.
Need some reassurance during troubling times? Check out Allan McCollum, Everything Will Be OK, online.
CANVAS (NEW)
Allan McCollum, Everything Will Be OK: In 2015, the artist — watching on his laptop with the subtitles turned on — started An Ongoing Collection of Screen Grabs with Reassuring Subtitles, a series of screenshots taken from movies and television shows. All of them are now online, thanks to help from MoMA.
MoMA Presents Virtual Views: Immerse yourself in the world of Dorothea Lange: Words & Pictures with a live Q&A with Sarah Meister, curator in MoMA's Department of Photography, and acclaimed photographer Sally Mann, about the exhibition. 30 April, 7pm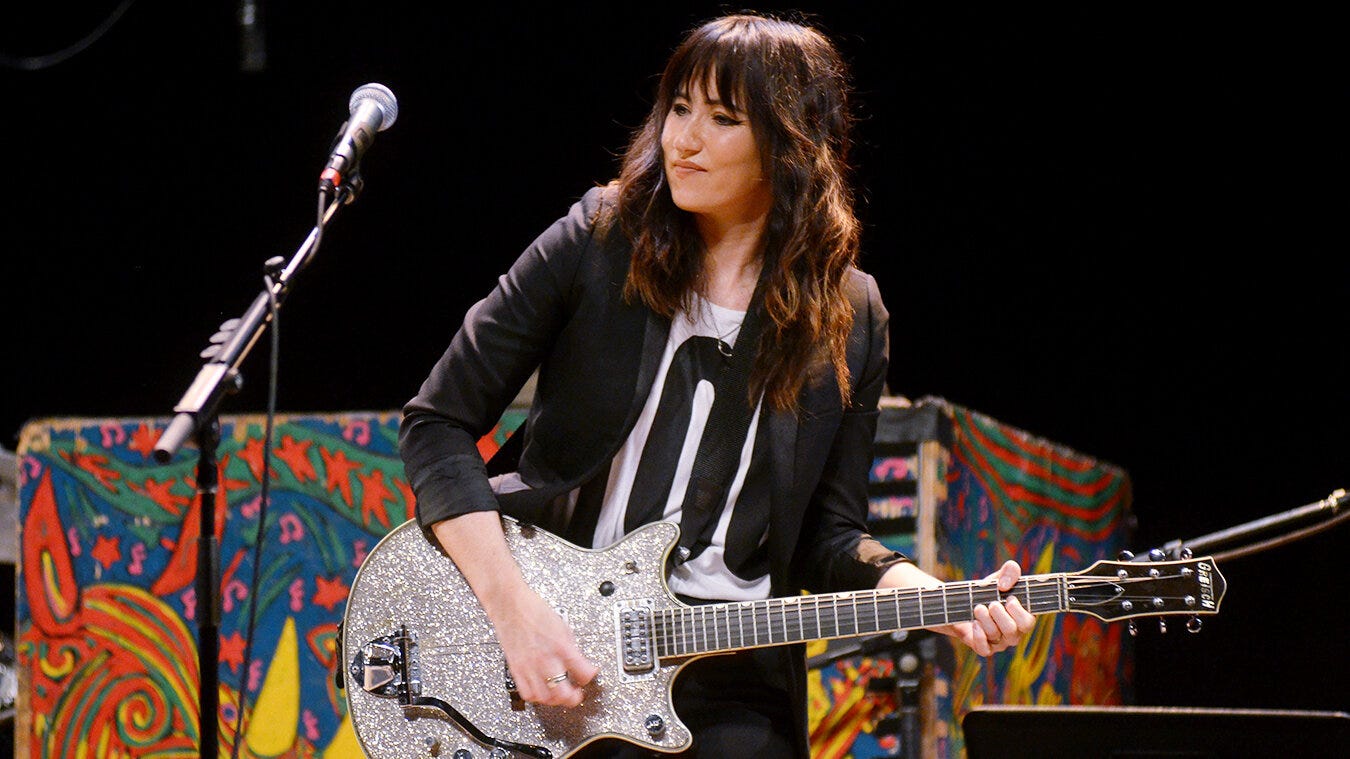 KT Tunstall was supposed to be coming to an audience at Royal Albert Hall on Saturday. Now she will be streaming live from her home in LA.
MUSIC + COMEDY (STREAMING)
KT Tunstall, Royal Albert from Home: 30 April, 3pm
Snow Patrol, Facebook Live Acoustic with Gary: 30 April, 2 May, 3pm,
Kurt Vile via Facebook Live: 1 May, 8pm
NPR's Tiny Desk Concerts: From NPR's All Songs Considered features your favorite musicians performing at Bob Boilen's desk in the NPR Music office. Watch videos from Passion Pit, The xx, Wilco, Adele, Phoenix, Tinariwen, tUnE-yArDs and many more.
PODCASTS
The Kitchen Sisters Present: The Kitchen Sisters (Davia Nelson & Nikki Silva) are the producers of two Peabody Award-winning NPR series, Lost & Found Sound and The Sonic Memorial Project. Now they have a podcast to tell stories from the b-side of history. Lost recordings, hidden worlds, people possessed by a sound, a vision, a mission.
A true love story between Terry Donahue and Pat Henschel, whose relationship spans nearly seven decades. Terry played in the women's professional baseball league, although the documentary follows the couple from their beginning through the home stretch.
NEW ON STREAMING THIS WEEK
A Secret Love: An incredible love story between Terry Donahue and Pat Henschel, whose relationship spans nearly seven decades. Terry played in the women's professional baseball league, although the documentary follows Terry and Pat back to when they met for the first time, through their professional lives in Chicago, coming out to their conservative families and now facing the home stretch. Netflix.
To the Stars: In a god-fearing small town in 1960s Oklahoma, bespectacled and reclusive teen Iris endures her mother's booze-induced antics and daily doses of bullying. She finds solace in Maggie, the enigmatic new girl at school. When Maggie's mysterious past can no longer be suppressed, Maggie must take potentially drastic measures and incite Iris to stand up. Vudu
Films at Lincoln Center Virtual Cinema: Watch some of the best films of the year from home and support Film at Lincoln Center. Select new releases:
Wish We Were Here: Shorts by IFC Center Staff: IFC Center is showcasing short documentary, comedy, drama, animated and experimental work by the creators who work as its ushers, floor staff, box office cashiers, managers and projectionists. Free.
Tennis was always in the cards for Hall of Famer Tracy Austin. Her three older siblings were all pros, and she was already gracing the covers of tennis magazines at age 4. Hear about her lifelong tennis journey during Hall of Fame Live.
SPORTS:
Tennis Hall of Fame Live: Last week, Stan Smith recapped moments from his iconic career and discussed the current state of tennis. This week Track Austin recounts her more courtly moments, followed by GiGi Fernandez next Thursday.