NY*Confidential What's On: The Covid Peek-a-Boo Edition
One of the 15 drive-in theaters in New York is located just above Poughkeepsie in Amenia, New York. Spend the night at the 60s-themed motel.
Hello NY*Confidants!
When New York State begins to re-open on May 15, one of the low-risk activities includes drive-in movies. There are still about 15 drive-ins still operating in New York State, most of them are upstate, but one diner in Astoria has put up its own. If you're feeling even more adventuresome, the people at Untapped Cities have put together a DIY tour of Grand Central and its accessible repository of amazing art, featuring works by some of the world's most famous artists (along with a long-forgotten school of art).
Speaking of art, Ray Johnson pioneered a new form of expression known as "mail art": artists could distribute their work through the postal service instead of through galleries and museums. Try your own mail art, or see a virtual exhibition at the Smithsonian. Over email, Nashville-based artist Jason Brown has called for submissions using a simple prompt: "my view from home," both real and imaginary from inside quarantine. The bulk goes to the Vanderbilt University library.
If home is still your place of preference, Atlas Obscura's Show & Tell, has Vic Clinco showing off his largest collection of hot sauces in the world, estimated around 9,200 bottles, organized by region, including a shelf dedicated solely to Tabasco. Also, Untapped New York is offering two months free access to its virtual visits using the code STAYHOME. One of the latest home adventures has been Silent Cities New York: Hidden Histories of the Region's Cemeteries. The book covers not only the greats — Green-Wood, Woodlawn and Queens — but also those just outside the city, such as Sleepy Hollow Cemetery in Tarrytown.
A personal request: A subscription of $5 a month goes a long way toward keeping this newsletter going, as well as the arts. Please consider. It's not a contribution or a gift. You're paying for researched, time-consuming, thoughtful work and the costs of hosting it online.
Portions of What's On: NY*Confidential reside on www.nyconfidant.com.
Facebook: https://www.facebook.com/NYConfidential/
Pass it on and support the artistic community. We do it for love, but must survive.
Celebrate, analyze, and enjoy three of the greatest versions of Batman, aka the Caped Crusader in New York Adventure Club's Three Faces of Batman webinar.
BOOK READINGS, TOURS + PERFORMANCE, ETC.
UNLESS STATED, EVENTS ARE FREE, BUT REGISTRATION REQUIRED
The Ultimate Virtual Wine Crash Course: A virtual wine-filled journey to get the 101 on wine topics and hacks, while sipping from the couch. 14 May, 8:30pm, $10.
The History of Film Through Antique 16mm Projector Short Films: Step back in time and see how the 16mm projector facilitated a film revolution. 15 May, 6pm, $10.
PEN World Voices Festival: Traditionally bringing hundreds of writers from around the world to New York for book talks, readings, and lectures, PEN America has curated an ongoing digital version in the time of Covid. Highlights:
'Out of Body Experiences' Webinar: Explore a well-documented and researched mental phenomenon in which a person experiences the world from a location outside their physical body. 18 May, 8pm, $10.
Virtual Animal Meet & Greet with the Staten Island Zoo: A virtual trip to Staten Island Zoo — known as the biggest "little" zoo in America — which contains more than 1,100 animals, and over 350 species. 19 May, 3pm, $10.
Alphonse Mucha, The Illustrator Who Changed the World of Advertising: A virtual journey through the Paris phase of Alphonse Mucha's career, and the exhibition Alphonse Mucha: Art Nouveau / Nouvelle Femme at Poster House. 19 May, 5:30pm, $10.
'Underground Manhattan, The History of the NYC Subway System' Webinar: Explore the history of the New York City subway system — opened in 1904 with a single line serving 28 stations — encompassing 472 stations and over 245 miles of tracks, serving nearly 6 million riders per day. 19 May, 8pm, $10.
'Three Faces of Batman' Webinar: Celebrate, analyze, and enjoy three of the greatest versions of Batman: the Batman TV series; comic book artist Neal Adams' legendary Batman; and Warner Bros.' Batman: The Animated Series. 20 May, 8pm, $10.
'NYC's Tin Pan Alley: The Birthplace of America's Music Industry' Webinar: West 28th Street and Broadway was once a cacophony of sounds from aspiring composers, singing and banging away on the piano. The story of one neighborhood that transformed the city into the music capital of the world. 21 May, 5:30pm, $10.
Pop-Up Magazine Channel: Pop-Up Magazine, the magazine that is live on stage, has opened a YouTube Channel. See Episode One, the story of Mimi and Brownie, best friends for life, World War II Army nurses, two 100-year-olds talk on the phone every single day. Episode Two, how to always win board games w/ David Kwong. Weekly.
Atlas Obscura Show and Tell:A series in which co-founder Dylan Thuras makes virtual visits to unusual places not normally seen without a camera. First up, Steve Erenberg, the Radio Guy, always on the hunt for strange objects that are either worn on — or illustrate — the head. Weekly.
Delve into the old downtown New York theatre scene thanks to Ellie Covan in her domain, Dixon Place.
THEATRE (NEW, ONLINE)
Bleeding Love: In a world where it's too dangerous to go outside, a starry-eyed teen cellist risks leaving her apartment to win the love of the rebel punk next door. A new musical podcast, part of theBroadway Podcast Network.
Public Theatre: Several theater companies have come together commission plays specifically for this moment of unprecedented isolation. Check out this, Digital Duets, the new Apple Family Zoom, Play at Home and other things happening on Lafayette.
Soundstage: Soundstage unites beloved writers and actors to craft scripted audio experiences of new plays and musicals. Brought to theatre buffs by Playwrights Horizons.
Downtown Dixon Place: This LES Theater is showcasing some of its favorite and best work, including Bindlestiff Open Stage Variety Show, Fable, A Nutty Tail — the story of the last woman on earth who must forage and befriend an assortment of urban wildlife to survive — and Contagion Cabaret. See DPTV (Dixon Place TV).
DANCE
JoyceStream: The streaming of Stephen Petronio Company in American Landscapes (2019), a collaboration with artist Robert Longo, which features original music by Jozef van Wissem and Jim Jarmusch. 15-21 May. A new dance presentation each week.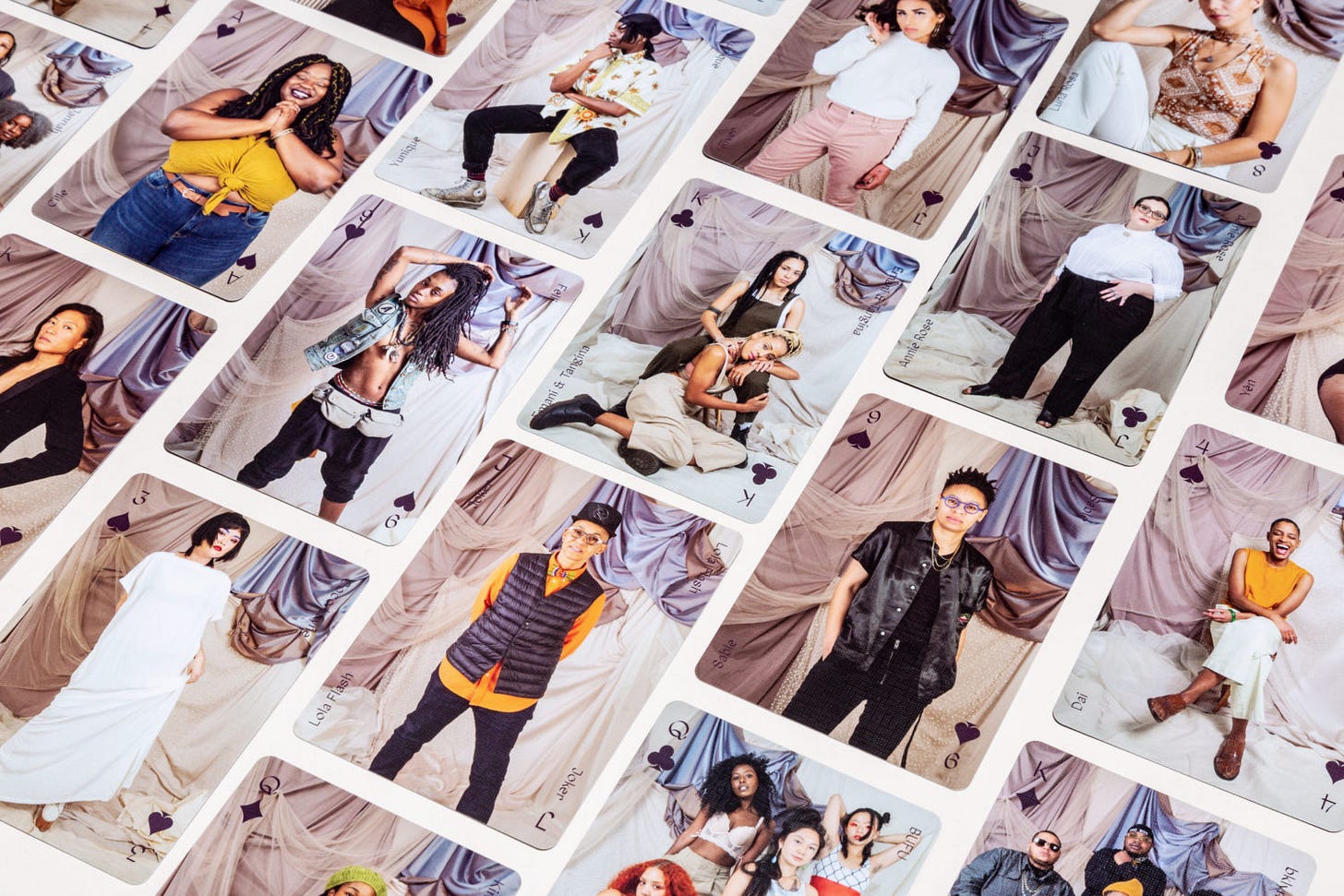 Naima Green is one of the new photographers coming to Fotografiska when the gallery reopens. In the meantime, check out some exhibits online.
CANVAS (NEW)
Pushing the Envelope: Mail Art from the Archives of American Art: Beginning in the 1960s — with letters, postcards, and packages — tested the limits of what could be posted and circumvented traditional elite modes of display and distribution (such as museums and commercial galleries).
MoMA Presents Virtual Views: Paola Antonelli, Senior Curator, Department of Architecture and Design, talks with Neri Oxman, about her exhibition Neri Oxman: Material Ecology. 14 May, 8pm
MoMA Presents Virtual Views: Spring is the time of year the MoMA Sculpture Garden comes to life. Join Ann Temkin, Chief Curator of Painting and Sculpture, for a historic virtual tour of MoMA's urban oasis and live Q&A. 7 May, 8pm
Fotografskia, The Foto Sessions: A way to bring the museum to patrons at home by hosting artists talks, virtual galleries and much more. Highlights:
Recording Artists: What was it like to be a woman making art during the feminist and civil rights movements? Helen Molesworth delves into the lives and careers of six women artists spanning several generations. From the archives of the Getty Research Institute.
Chris Thile has evolved from Christian bluegrass into a musician's musician. His Live from Here broadcast is regularly taped at New York's Town Hall. Try Live from Here at Home.
MUSIC + COMEDY (STREAMING)
Live from Here w/Chris Thile: 16 May, w/Wilco, Madison Cunningham, Tom Papa and Marion Winik; stream previous episodes.
Ben Folds: 16, 23, 30 May
Badly Drawn Boy: 29 May, 4pm
RESCHEDULED
Ticketmaster, BoweryPresents, LiveNation
Lupe Fiasco Presents Food & Liquor: 28-29 June, Brooklyn Steel
Brian Fallon & the Howling Weather: 15 July, Town Hall; 16 July, Webster Hall
The Lone Bellow: 11 Aug., Webster Hall
Morrissey: 17 Sept.,Hammerstein Ballroom
Josh Ritter: 22-23 Sept., Murmrr
The Revivalists: 30 Sept., Radio City Music Hall
The Dandy Warhols: 12 Nov., Music Hall of Williamsburg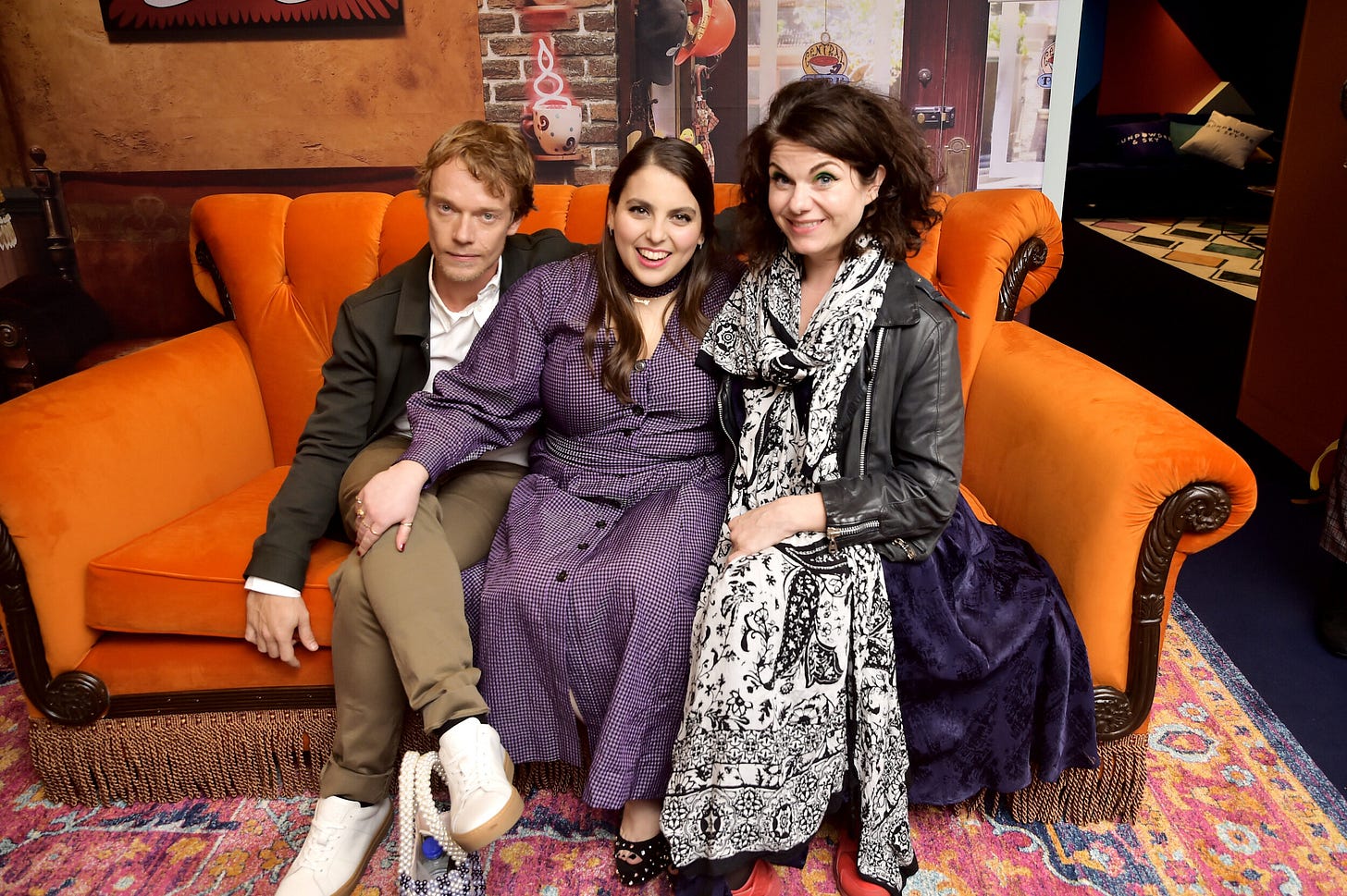 Caitlin Moran (left), UK TV critic and author of How to Build a Girl, with the cast of the film, released this week.
NEW ON STREAMING THIS WEEK
How to Build A Girl: Johanna is a bright, quirky, 16-year-old who, desperate to break free from her life, submits a music review to a group of self-important indie rock critics. After, she reinvents herself as an impossible-to-please music critic with an insatiable lust. Based on the novel by Caitlin Moran.
Becoming: Follows former First Lady Michelle Obama on her 34-city, 2018-19 tour to promote her memoir of the same name. Most often taking place in massive arenas, Obama was interviewed by various moderators and she discussed a life that started in a working-class family on the South Side of Chicago.
Driveways: Revolves around the unlikely friendship formed between a lonely young boy and his new octogenarian neighbor. As his mother looks on, he provides the widowed veteran with a youthful outlook and begins to discover a newfound maturity within himself.
Remember this doubles champ? Hear about the lifelong tennis journey during the Hall of Fame Live interview with Gigi Fernandez.
SPORTS
Tennis Hall of Fame Live: Last week, Todd Woodbridge gave fans the 411 on his favorite opponents and life as a young pro. Recent Hall of Fame inductee Gigi Fernandez is up next.
The Bronx Before Yankee Stadium: A fascinating look at old New York through a striking set of photos showing baseball's hallowed ground on River Avenue in the Bronx before Yankee Stadium's arrival in 1923.
Cary Leeds Tennis: From poaching to practical skills while holing up at home, Cary Leeds tennis pros have programming until a return to the courts.