NY*Confidential, What's On: The Amateur Fireworks Edition
Nighttime fireworks heard in many Brooklyn neighborhoods these days aren't as grand as this display at the Brooklyn Bridge, but they still make plenty of noise. Photo: Brooklyn Eagle
Greetings, NY*Confidants!
Happy Fourth! We have made it this far… It's been a week, with Broadway announcing it will not resume until 2021 and Major League Baseball still not decided on its season. But at least we have the fireworks. Thanks, Mayor Bill. Of course, those of us in at least four boroughs have seen the fireworks on our streets (literally) for about a month now, Macy's would not disappoint. It is putting on five "mini" shows across the city, culminating on Saturday night. Make sure the bed remains unobstructed for pets.
Another week, another small concession to reopening, including new drive-in movie theaters. Tribeca Enterprises is now showing outdoor films at Orchard Beach each weekend running through 2 August. It joins Nickerson Beach in Nassau County beginning 9 July at $26 per vehicle, the Bel Aire Diner in Astoria and the Uptown Drive-In festival in the Yankee Stadium parking lot. So far, the Skyline Drive-In in Greenpoint has a slate of classic movies at a greater cost, but people can sit outside their Zipcars.
Finally, although the Stonewall Inn was saved by a $250K donation that from the Gill Foundation — "one of the nation's leading funders of efforts to secure full equality" — other LGBT bars, such as Cubby Hole, Henrietta Hudson and Ginger's are struggling with doors closed for at least three months. Buy a drink, or donate online for one of these other landmarks of the city.
Portions of What's On: NY*Confidential reside on www.nyconfidant.com and Facebook.
Pass it on and support the artistic community. We do it for love, but must survive.
From major commissions to pop-up pieces on the side of buildings, mural art has gone hand-in-hand with NYC ever since the mid-20th century. Explore this super-sized artistic medium on 8 July in 'The Great Murals of New York City' Webinar.
BOOK READINGS, TOURS + PERFORMANCE
UNLESS STATED, EVENTS ARE FREE; TIMES ARE EDT
Greenlight Bookstore Reopening Party: An all-star lineup of novelists, essayists, poets, and other creative folks will read new and old work to celebrate the power of books to bring us together and help us find a way forward. 2 July, 7:30pm, $20.
Virtual Talk, Behind the Curtain, The Birth of Broadway: A unique look at New York City's earliest theaters — the birth of Broadway — through images of its locations, its builders and managers, and the actors who made history on its stages. 2 July, 2pm.
'Out of Body Experiences' Webinar w/ Sci-fi Author Jon Womack: Have you ever dreamt you could fly? Do our loved ones await us on the "Other Side?" Set sail on a journey into noetic realms and past lives. 2 July, 1pm, $10.
Strand Presents John Fram, The Bright Lands: Friday nights are sacred; the people of Bentley gather in devotion to the vigor of their boys on display. But when their all-star quarterback, Dylan Whitley goes missing, an unwelcome but familiar gloom returns to Texas. 6 July, 7pm, Register.
'The Secrets of Grand Central Terminal' Webinar: Grand Central has captivated people from around the world with its architectural beauty, but it's also full of secrets — from being the target of a failed Nazi sabotage mission to its train traffic sectors. 6 July, 8pm. $10.
Strand Presents, Hank Green, A Beautifully Foolish Endeavor: The follow-up to the best-selling An Absolutely Remarkable Thing, a fast-paced adventure that is also a biting social commentary, asking hard, urgent questions about the way we live, our freedoms, our future, and how we handle the unknown. 6 July, 7pm.
Underground Manhattan, The History of the NYC Subway System: Explore the oldest subway stations in New York City (virtually) working up from Brooklyn Bridge/City Hall station to Grand Central Terminal. Includes the art, architecture, and secrets hiding in plain sight. 7 July, 8pm. $10.
Powerhouse Books Presents Blake Butler, Alice Knott: The theft and destruction of eight internationally famous works of art, including a priceless de Kooning, takes place in the home of Alice, a reclusive heiress and art collector. As the press descends upon her home, Alice becomes a primary suspect. 7 July, 7pm.
Community Bookstore Presents Tana Wojczuk Lady Romeo: In the tradition of Jill Lepore's Book of Ages, a biography of 19th-century queer actress Charlotte Cushman, whose cross-dressing Shakespearean performances and radical lifestyle made headlines across America. 7 July, 7:30pm.
'The Great Murals of New York City' Webinar: From major commissions to pop-up pieces on the side of buildings, mural art has gone hand-in-hand with NYC ever since the mid-20th century. Explore this super-sized artistic medium. 8 July, 1pm. $10.
Powerhouse Presents Larry Tye, Demagogue: Senator Joe McCarthy's personal and professional papers, his medical and military records —all have been under lock and key for 70 years. Until now. Meet the senator undone by boozing and vengefulness. 8 July, 8pm.
'The Silver Age of Comics: Rise of the Black Superhero' Webinar: Explore the Silver Age of comic books, a period between 1956-1970 that introduced hyper-realistic black superheroes into real-world settings, including The Black Panther (1965), The Falcon (1969), and John Stewart of the Green Lantern series (1971). 8 July, 8pm, $10.
'Modern Fashion 101 + How to Dress Confidently' Webinar: Being fashionable isn't about wearing a three-piece suit or designer dress; it's about getting a curated style. One fashion industry vet reveals the craft of developing that look. 9 July, 1pm, $10.
Community Bookstore Presents Andrew Martin, Cool for America: A humorous collection of overlapping stories that explores the dark zone between artistic ambition and its achievements, bookended by the misadventures of Leslie, a young woman, who moves from New York to Missoula, Montana to beat lingering depression. 9 July, 7:30pm.
Powerhouse Presents Diane Cardwell, Rockaway: Unmoored by a failed marriage and disconnected from her high-octane life in the city, Diane Cardwell finds herself staring at a small group of surfers coasting through mellow waves toward shore. She decides to pivot. 9 July, 7pm.
'The Great Brooklyn Sugar & Coffee War' Webinar: In New York's Kings County, no two were more powerful than Coffee King John Arbuckle and Sugar King Henry Osborne Havemeyer — 86 percent of the nation's coffee and 98 percent of its sugar were roasted and refined in Brooklyn. Then Arbuckle decided to also get into the sugar industry. 9 July, 5:30pm, $10.
'Art Deco New York and the Race to the Clouds' Webinar: While New York City was just about to enter the "Roaring Twenties," the skyline followed. The story of oversized egos and overheated rivalries and NYC's skyscraper boom. 13 July, 1pm, $10.
Murmrr Lit Presents Colin Jost, A Very Punchable Face: A witty observer of human behavior, Jost writes with razor-sharp comic timing about everything from his youth in Staten Island to Harvard at the dawn of Facebook to behind the scenes at SNL. 13 July, 7:30pm, $30.
'Five Points, NYC's Most Notorious 19th-Century Slum' Webinar: Step back in time to explore the forgotten stories and historic remnants of Five Points, a 19th-century slum that was infamous for decades, described by Charles Dickens as where "poverty, wretchedness, and vice are rife." 14 July, 12:30pm, $10.
92Y Presents David Mitchell, Utopia Avenue with David Byrne: Emerging from London's psychedelic scene in 1967, Utopia Avenue embarked on a meteoric journey from the seedy clubs of Soho to the top of the charts. Mitchell's kaleidoscopic novel tells the unexpurgated story of Utopia Avenue's turbulent life and times and fame's Faustian pact. 14 July, 6pm, $35.
'The Untold Story of History's Greatest Women Cartoonists' Webinar: Uncover the greatest women cartoon artists up through the mid-20th century, from the author who wrote the definitive book on the topic. 14 July, 5:30pm, $10.
'The Beer Barons & Breweries of Staten Island' Webinar: For nearly a century, beer production was one of the most prominent industries on Staten Island. Meet the beer barons and see the breweries that transformed the borough. 15 July, 1pm, $10.
'The Secrets of TriBeCa: Lofts, Artists, & Alleyways' Webinar: Known today for its namesake film festival and high-end private homes, Tribeca was anything but fabulous for nearly 300 years. Meet the sailors, merchants, and artists that once called this neighborhood home. 16 July, 1 pm, $10.
'The Untold History of Brooklyn Heights' Webinar: From its beginnings in the early 1800s as a retreat for wealthy New Yorkers to the modern neighborhood that looks much like it did 100 years ago, see the real Brooklyn Heights. 16 July, 5:30 pm, $10.
Through the Lens of Wild, Weird, and Wacky America: Take a road trip through the off-the-beaten-path USA from the country's best-preserved ghost town to Elvis in his Sunday Best. Through the lens of one award-winning photographer. 17 July, 1pm, $10.
Enjoy works from the Public Theatre specifically for this moment of unprecedented isolation, including the highly touted Much Ado About Nothing starring Danielle Brooks from the 2019 Shakespeare in the Park season.
THEATRE + DANCE + PODCASTS
Public Everywhere: Enjoy works from the Public Theatre specifically for this moment of unprecedented isolation, including What Do We Need To Talk About?, Latin History For Morons, Play At Home, Watch Me Work and Brave New Shakespeare Challenge.
59E59 Presents Hershey Felder, Beethoven (Live Broadcast): From Moonlight Sonata and Pathétique Sonata to selections from the 5th and 9th Symphonies, Beethoven features some of the composer's greatest works in an intense journey from Florence, Italy.12 July, 8pm, $56.
Dixon Place HOT Festival: Since 1992, this trailblazing summer festival sizzles with over 30 artists presenting queer theater, dance, music, literature, puppetry and comedy, including Marga Gomez on 16 July. The longest-running annual LGBTQ festival in the world. See DPTV (Dixon Place TV).
The Room Plays: A series of short plays by the Eden Theatre Company that take place in the rooms that "we create for ourselves, and the rooms from which we have no immediate exit." First up, was the Bedroom Plays, still streaming on YouTube, followed by the Living Room on 16 July and the Bathroom in August.
Molière in the Park Presents Tartuffe: Tartuffe is a dubiously pious crook, happy to use the bible as a prop for personal gain. Orgon is a naive, lost, and aging patriarch, lusting for his fleeting power. When these two forces meet in Molière's timely satire, division and chaos take over, until lies are exposed. Streaming.
Liu Xiaodong began making watercolors of locked-down New York while he was stranded here, with all flights to Beijing cancelled. See his prodigious talent in a new show at Lisson Gallery online.
CANVAS
Liu Xiaodong's Spring in New York:When Liu Xiaodong began making watercolors of locked-down New York, he was stranded here, with all flights to Beijing cancelled. April brought blossoming trees in a closed playground; in late May, Black Lives Matter protesters took to the streets. Lisson Gallery online exhibition.
MoMA Virtual Views, Video Lives: This week, artist Sharon Hayes shares an excerpt from her new project, which records a group discussion with two Dallas-based women's football teams on pleasure and pain, sport and life. Live Q&A with video artist Joan Jonas, as they discuss seven works by some of today's most important video artists. 2 July, 7pm.
Fotografiska New York + Hedges Projects Presents Andy Warhol Photographs: An online exhibition of Warhol's Polaroid photographs from the 1970s to celebrate and commemorate Pride. The exhibition examines Warhol's exploration of gender and identity through two series: Sex Parts and Torsos and Ladies and Gentlemen. Online.
Felix Gonzalez-Torres, "Untitled'' (Fortune Cookie Corner): In an era of social distancing, can a fortune cookie help bring us together? That question, is at the core of a new exhibition by the late artist Felix Gonzalez-Torres.
Don't mourn CityParks Foundation SummerStage. See many interesting programs, including Fab5Freddy from the days of YoMTVRaps, throughout the summer.
MUSIC (STREAMING)
SummerStage Anywhere: A new program that highlights genres of NYC, including Global Music Tuesdays, Indie Rock Wednesdays, Latin, Thursdays and Hip-Hop Fridays.
In a world in which we must all live six feet apart, only one thing will bring us together…
CINEMA (STREAMING)
Film Forum Virtual: Watch some of the best films of the year from home and support Film at Lincoln Center. Select new releases:
Films at Lincoln Center Virtual Cinema: Watch some of the best films of the year from home and support Film at Lincoln Center. Select new releases:
OTHER STREAMING:
To the Stars: In god-fearing Oklahoma, Iris endures the booze-induced antics of her mother and daily doses of bullying. She finds solace in Maggie, the charismatic new girl at school. When Maggie's mysterious past is discovered, the tiny community panics, leaving Iris to stand up for her friend. Hulu.
Palm Springs: When carefree Nyles (Andy Samberg) and reluctant maid of honor Sarah (Cristin Milioti) have a chance encounter at a Palm Springs wedding, things get complicated when they find themselves unable to escape the venue, themselves, or each other. Hulu.
Resistance: Before he was the world-famous mime Marcel Marceau, he was Marcel Mangel, an aspiring Jewish actor who joined the French Resistance to save the lives of thousands of children orphaned at the hands of the Nazis. Jesse Eisenberg stars in this compelling drama. Amazon Prime.
The Last Tree:Femi, a British boy of Nigerian heritage, moves to inner London to live with his mum. Struggling with the unfamiliar culture, teenage Femi has to figure out which path to adulthood he wants to take, and what it means to be a young black man in London. Amazon Prime.
House of Hummingbird: Set against the backdrop of a rapidly expanding Seoul in 1994, a lonely 14-year-old Eun-hee moves through life like a hummingbird searching for a taste of sweetness wherever she may find it. When Young-ji, a new teacher, arrives, she becomes the first adult Eun-hee feels really understands her. Loft Cinema.
What She Said: The New Yorker film critic Pauline Kael battled to make her mark. An unvarnished portrait of a pioneer who was both admired and resented for what she said about art in an era of great movie-making. Amazon Prime.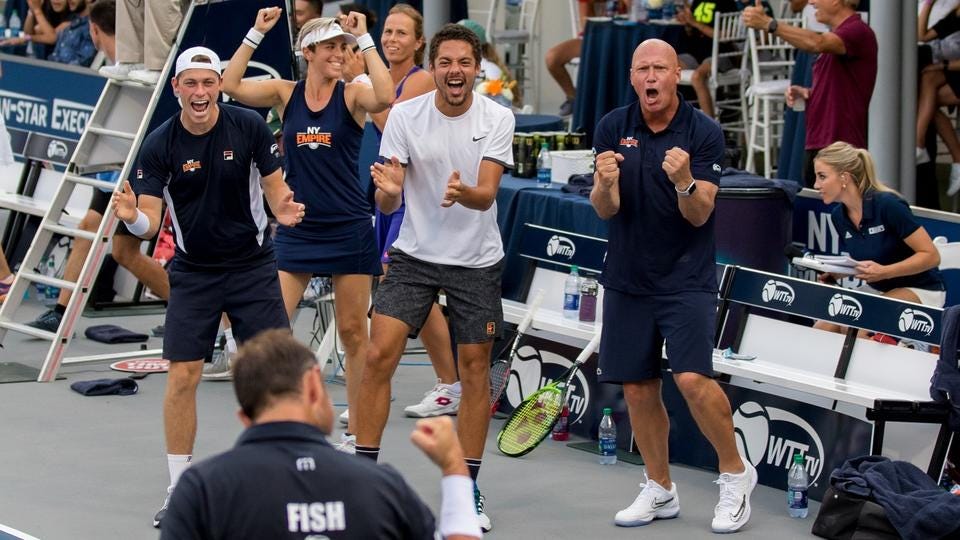 See Mardy Fish, coach Luke Jensen and the rest of the New York Empire compete in World Team Tennis returning on 13 July on CBS Sports Network, Tennis Channel or ESPN+.
SPORT
World Team Tennis: Watch the Washington Kastles — led by 23-time Grand Slam winner (seven singles titles) and four-time Olympic gold medalist Venus Williams and young American star Frances Tiafoe — and the Vegas Rollers — anchored by Bob and Mike Bryan, the winningest doubles team in tennis history — take on six more teams from around the country. 12-30 July, CBS Sports Network, Tennis Channel or ESPN+.
PremierLeague: Will the Aston Villa return to the Championship League? Will Man City take second? Can anyone outdo Liverpoool? For four more weeks, England's favorite sport is back. NBC Sports.
OTHER SPORTS RETURN (TO TV):
WNBA: "Late July", IMG Academy in Bradenton, Fla.
2020 PGA Tour: 6-9 Aug, Harding Park in the Bay Area.