NY*Confidential What's On
The Governor's Island/Vacation Edition
Greetings, NY*Confidants!
First up, Governors Island, one of New York City's favorite summertime spots, reopens on 15 July (!) from 10am to 7pm every day (!!). Only one hitch: advance tickets must be purchased for the ferries to allow for social distancing on the island. That said, Governors Island will open The Hills, Hammock Grove and the Urban Farm, as well as 2019 art installations including Shantell Martin's The May Room inside the military chapel and Rachel Whiteread's Cabin, a permanent installation. Citi Bike and Blazing Saddles are offering bike rentals, pedal cars, surreys and scooters. No glamping, though. If you are not wanting to venture out quite yet, MoMA has put together some art-making activities for you and yours.
Also, some of the shows we missed this Spring have been rescheduled (still subject to Covid-phasing). Right now, these are the ones we can safely go with. Check out Bowery Presents for the latest: Morrissey, 17 Sept., Hammerstein Ballroom; The Revivalists: 30 Sept., Radio City Music Hall; Thom Yorke: 2 Oct., Radio City Music Hall; and The Dandy Warhols: 12 Nov., Music Hall of Williamsburg.
Your friendly entertainment guru is off to Oklahoma on a story and a family visit for the rest of July. Enjoy and see you then!
Portions of What's On: NY*Confidential reside on www.nyconfidant.com and Facebook.
Pass it on and support the artistic community. We do it for love, but must survive.
Jost writes with razor-sharp comic timing about everything from his youth in Staten Island to Harvard to behind the scenes at SNL. He appears at Murmrr Lit Presents Colin Jost, A Very Punchable Face with Michael Che on 13 July.
BOOK READINGS, TOURS + PERFORMANCE
UNLESS STATED, EVENTS ARE FREE; TIMES ARE EDT
'Modern Fashion 101 + How to Dress Confidently': Being fashionable isn't about wearing a three-piece suit or designer dress; it's about getting a curated style. One fashion industry vet reveals the craft of developing that look. 9 July, 1pm, $10.
Community Bookstore Presents Andrew Martin, Cool for America: A humorous collection of overlapping stories that explores the dark zone between artistic ambition and its achievements, bookended by the misadventures of Leslie, a young woman, who moves from New York to Missoula, Montana to beat lingering depression. 9 July, 7:30pm.
Powerhouse Presents Diane Cardwell, Rockaway: Unmoored by a failed marriage and disconnected from her high-octane life in the city, Diane Cardwell finds herself staring at a small group of surfers coasting through mellow waves toward shore. She decides to pivot. 9 July, 7pm.
'The Great Brooklyn Sugar & Coffee War': In New York's Kings County, no two were more powerful than Coffee King John Arbuckle and Sugar King Henry Osborne Havemeyer — 86 percent of the nation's coffee and 98 percent of its sugar were roasted and refined in Brooklyn. Then Arbuckle decided to also get into the sugar industry. 9 July, 5:30pm, $10.
'Art Deco New York and the Race to the Clouds': While New York City was just about to enter the "Roaring Twenties," the skyline followed. The story of oversized egos and overheated rivalries and NYC's skyscraper boom. 13 July, 1pm, $10.
Murmrr Lit Presents Colin Jost, A Very Punchable Face: A witty observer of human behavior, Jost writes with razor-sharp comic timing about everything from his youth in Staten Island to Harvard at the dawn of Facebook to behind the scenes at SNL. 13 July, 7:30pm, $30.
'Five Points, NYC's Most Notorious 19th-Century Slum': Step back in time to explore the forgotten stories and historic remnants of Five Points, a 19th-century slum that was infamous for decades, described by Charles Dickens as where "poverty, wretchedness, and vice are rife." 14 July, 12:30pm, $10.
92Y Presents David Mitchell, Utopia Avenue with David Byrne: Emerging from London's psychedelic scene in 1967, Utopia Avenue embarked on a meteoric journey from the seedy clubs of Soho to the top of the charts. Mitchell's kaleidoscopic novel tells the unexpurgated story of Utopia Avenue's turbulent life and times and fame's Faustian pact. 14 July, 6pm, $35.
Virtual Animal Meet & Greet with the Staten Island Zoo: A virtual trip to Staten Island Zoo, which contains more than 1,100 animals, and over 350 species from six of the world's seven continents. 14 July, 3pm, $10.
'The Untold Story of History's Greatest Women Cartoonists': Uncover the greatest women cartoon artists up through the mid-20th century, from the author who wrote the definitive book on the topic. 14 July, 5:30pm, $10.
'The Beer Barons & Breweries of Staten Island': For nearly a century, beer production was one of the most prominent industries on Staten Island. Meet the beer barons and see the breweries that transformed the borough. 15 July, 1pm, $10.
'The Secrets of TriBeCa: Lofts, Artists, & Alleyways': Known today for its namesake film festival and high-end private homes, Tribeca was anything but fabulous for nearly 300 years. Meet the sailors, merchants, and artists that once called this neighborhood home. 16 July, 1 pm, $10.
'The Untold History of Brooklyn Heights': From its beginnings in the early 1800s as a retreat for wealthy New Yorkers to the modern neighborhood that looks much like it did 100 years ago, see the real Brooklyn Heights. 16 July, 5:30 pm, $10.
Through the Lens of Wild, Weird, and Wacky America: Take a road trip through the off-the-beaten-path USA from the country's best-preserved ghost town to Elvis in his Sunday Best. Through the lens of one award-winning photographer. 17 July, 1pm, $10.
'The Secrets of Grand Central Terminal': Grand Central has captivated people from around the world with its architectural beauty, but it' also full of secrets — from being the target of a failed Nazi sabotage mission during WWII to containing hidden areas that keep it and its train traffic running each day. 20 June, 8pm. $10.
Underground Manhattan, The History of the NYC Subway System: Explore the oldest subway stations in New York City (virtually) working up from Brooklyn Bridge/City Hall station to Grand Central Terminal. Includes the art, architecture, and secrets hiding in plain sight. 21 July, 8pm. $10.
'The Great Gatsby Estates': A digital exploration of the magnificent estates and mansions of Long Island's "Gold Coast" that are believed to have inspired The Great Gatsby, the classic 1925 novel by F. Scott Fitzgerald that centered around one of the world's premier collections of glamour, luxury, and architectural achievement. 22 July, 5:30pm. $10.
'NYC's Tin Pan Alley: The Birthplace of America's Music Industry': A spotlight on the former New York City neighborhood of Tin Pan Alley, the birthplace of the American music industry, which produced some of the most prolific songwriters of the early 20th century. 23 July, 1pm. $10.
'Spy City: The History of Espionage in New York City': "Upon Secrecy, Success Depends," or so said George Washington. From the Revolutionary War to the present day, covert ops have flourished in the five boroughs of Spy City. 27 July 8pm, $10.
Virtual Road Trip Down Route 66 with Pro Photographer Julien McRoberts: From classic roadside diners to desert ghost towns, explore the bygone era of one of America's most famous highways, through the lens of one award-winning photographer. 28 July, 5:30pm, $10.
'Fear City: New York City in the 1970s & 1980s': Artists and arsonists. Punk rockers and panicky bankers. Sex workers and serial killers. New York City in the 1970s and 1980s was a tale of two cities. The story of New York in its grittiest modern eras, from one local who experienced it all firsthand. 30 July, 8pm, $10.
NY Adventure Club Virtual Group Trivia Night: A virtual group trivia night that pits teams against one another to answer questions from diverse topics and themes. 31 July, 8pm, $10.
Marga Gomez recounts growing up brown and queer in Washington Heights, including sadistic nuns on poppers, childhood misdemeanors and parental post-nasal drip in Spanking Machine in the Dixon Place HOT Festival.
THEATRE + DANCE
Public Everywhere: Enjoy works from the Public Theatre specifically for this moment of unprecedented isolation, including What Do We Need To Talk About?, Latin History For Morons, Play At Home, Watch Me Work and Brave New Shakespeare Challenge.
59E59 Presents Hershey Felder, Beethoven (Live Broadcast): From Moonlight Sonata and Pathétique Sonata to selections from the 5th and 9th Symphonies, Beethoven features some of the composer's greatest works in an intense journey from Florence, Italy.12 July, 8pm, $56.
Dixon Place HOT Festival: Since 1992, this trailblazing summer festival sizzles with over 30 artists presenting queer theater, dance, music, literature, puppetry and comedy, including Marga Gomez on 16 July. The longest-running annual LGBTQ festival in the world. See DPTV (Dixon Place TV).
Untitled, Chicago, Illinois 1957 by Gordon Parks (American, 1912–2006). Showing on the website of MoMA as a part of the exhibit "Gordon Parks: Atmosphere of Crime".
CANVAS
MoMA Virtual Views, Gordon Parks, "The Atmosphere of Crime": Explore sParks's powerful work, including his 1957 photography series The Atmosphere of Crime, and his legacy for today. Virtual Views, 16 July, 7pm.
Liu Xiaodong's Spring in New York:When Liu Xiaodong began making watercolors of locked-down New York, he was stranded here, with all flights to Beijing cancelled. April brought blossoming trees in a closed playground; in late May, Black Lives Matter protesters took to the streets. Lisson Gallery online exhibition.
Fotografiska New York + Hedges Projects Presents Andy Warhol Photographs: An online exhibition of Warhol's Polaroid photographs from the 1970s to celebrate and commemorate Pride. The exhibition examines Warhol's exploration of gender and identity through two series: Sex Parts and Torsos and Ladies and Gentlemen. Online.
Edward Hopper, Fondation Beyeler: Hopper's iconic representations of the infinite expanse of American landscapes and cityscapes — key to understanding his work. Thru 26 July.
Andrew Bird plays a live streaming show on 25 July as a part of the My Finest Work Yet tour. My Finest Work Yet was nominated for "Best Folk Album" at the 2020 Grammy Awards.
MUSIC + COMEDY (STREAMING)
Rufus Wainwright, Unfollow the Rules Record Release Party: 11 July, 2pm
Ani DiFranco, Heavy Hitters Festival/Live Stream: 12 July, 4pm
Devon Gilfillian: 13 July, 3pm
Angel Olsen: 14 July, 3pm
Andrew Bird: 25 July, 8pm
SummerStage Anywhere: A new program that highlights genres of NYC, including Global Music Tuesdays, Indie Rock Wednesdays, Latin, Thursdays and Hip-Hop Fridays.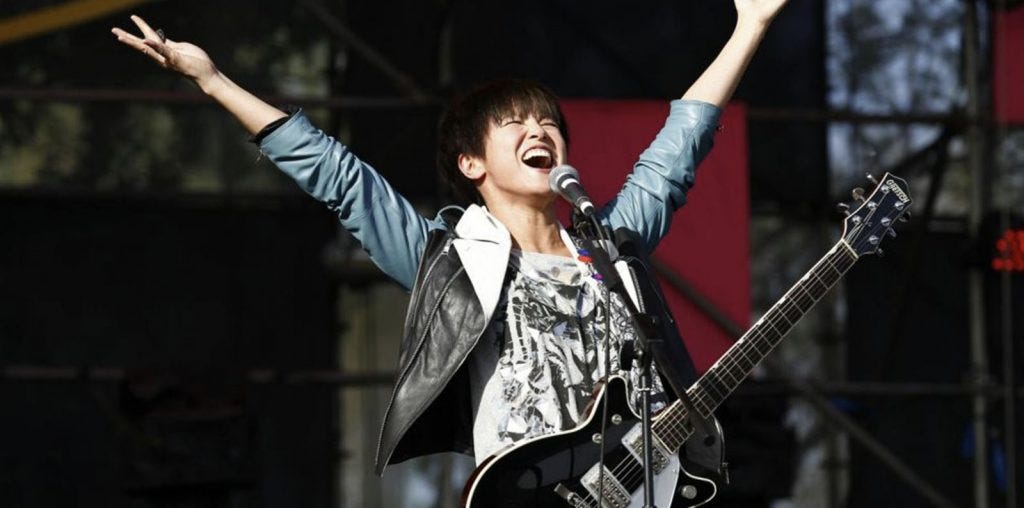 Becoming the Song profiles the openly gay Hong Kong singer and human rights activist Denise Ho and explores her remarkable journey from Cantopop superstar to activist.
CINEMA (STREAMING)
Film Forum Virtual: Watch some of the best films of the year from home and support Film at Lincoln Center. Select new releases:
Films at Lincoln Center Virtual Cinema: Watch some of the best films of the year from home and support Film at Lincoln Center. Select new releases:
Bloody Nose, Empty Pockets: On the eve of the 2016 U.S. presidential election, a Las Vegas dive bar becomes a stage where its employees and barflies commiserate one last time.

First Cow: A taciturn loner and skilled cook finds true connection with a Chinese immigrant and they collaborate on a successful business, although reliant upon the clandestine participation of a nearby landowner's prized milking cow.

Mayak (The Lighthouse): Maria Saakyan's story unfolds in the '90s, against the backdrop of the Caucasus wars. As the scope of the conflict extends to one woman's small village, she is forced to drop everything, move to Moscow, and start over. 17 July.
OTHER STREAMING:
Olympia: Unfiltered documentary follows the life and career of academy-award-winning actress, Olympia Dukakis. Starting on the day she turns eighty and continuing for three years, this film deals with the struggles and pains surrounding identity and the roles placed on us by society. Amazon Prime.
Scheme Birds: See a fading steel town in Scotland through the eyes of Gemma, a soon-to-be mother on the verge of adulthood. In a place where you "either get knocked up or locked up," Gemma carves out brief moments of tenderness amidst the violence of her local scheme. Amazon Prime.
What She Said: The New Yorker film critic Pauline Kael battled to make her mark. An unvarnished portrait of a pioneer who was both admired and resented for what she said about art in an era of great movie-making. Amazon Prime.
The Truth: Fabienne (Catherine Deneuve) is an aging French movie star who, despite her momentary lapses in memory, remains a venerable force. Upon the publication of her memoirs, her daughter Lumir (Juliette Binoche) returns from New York with her husband (Ethan Hawke) and their young daughter to commemorate its release. IFC Channel.
Black Magic for White Boys: Larry is an aging performer who desperately wants to save his struggling New York City theater. Oscar is an immature yuppie who accidentally gets his new girlfriend pregnant. Oscar's best friend Jamie is a real estate developer. What they all need is some magic to fix their predicaments. Amazon Prime.
Suzi Q: Before Suzi Quatro burst on the music world in 1973, there were almost no women in rock, and absolutely none who played bass and sang lead vocals and led the band and rocked out and reached millions of people around the world, re-writing the rule book for the expected image of women in rock & roll. Amazon Prime.
Inmate #1: The Rise Of Danny Trejo: Reveals the extraordinary life journey of Hollywood's most unlikely hero. From an early life of drugs, armed robbery and hard prison time, to the red carpets of Hollywood blockbusters and helping troubled addicts. Danny gives a first hand account of one of the greatest transformations put to film. Amazon Prime.
Becoming the Song: Profiles the openly gay Hong Kong singer and human rights activist Denise Ho and explores her remarkable journey from commercial Cantopop superstar to outspoken political activist, an artist who has put her life and career on the line to support the determined struggle of Hong Kong. Loft Cinema.
The Mighty Oak: Music manager Gina Jackson whose life is shattered when her brother and lead vocalist, Vaughn is killed in a tragic accident. Ten years later, when a young guitar prodigy Oak Scoggins enters her orbit, she becomes convinced that this young man is the reincarnation of Vaughn, but is he? Amazon Prime.
See Mardy Fish, coach Luke Jensen and the rest of the New York Empire compete in World Team Tennis returning on 13 July on CBS Sports Network, Tennis Channel or ESPN+.
SPORT
World Team Tennis: Watch the Washington Kastles — led by 23-time Grand Slam winner (seven singles titles) and four-time Olympic gold medalist Venus Williams and young American star Frances Tiafoe — and the Vegas Rollers — anchored by Bob and Mike Bryan, the winningest doubles team in tennis history — take on six more teams from around the country. 12-30 July, CBS Sports Network, Tennis Channel or ESPN+.
v. Atlanta Braves: 24-25 July, 4pm; 26 July, 7pm
v. Boston Red Sox: 29-30 July, 7pm.
See Ticket policies.
New York City Football Club: In Florida, beginning 8 July. Schedule here.