NY*Confidential Presents... the Patience + Fortitude Edition
Hello NY*Confidants!
New Yorkers were happy to see the beloved New York Public Library lions, Patience and Fortitude fully restored last year. But now they can see their Feline Book Club choices, too. In celebration of the NYPL's 125th Anniversary this year, the two lions were provided with "lion-sized" copies of two books that were just released on the Library's 125 Books We Love list: Beloved by Toni Morrison and The Great Gatsby by F. Scott Fitzgerald. Elsewhere around town, including the place that natives lovingly call the NYPL, readings continue. Erik Larson author of The Devil in the White City and Dead Wake presents The Splendid and the Vile a portrait of Winston Churchill in his finest hour; Andrea Bernstein is talking American Oligarchs, with authors of The Fixers, about Donald Trump's dark universe; and local writer T Kira Madden talks about being in the Tribe of Fatherless Girls.
Lots of other things going on, too; details below.
NY*Confidential is now in your inbox every other week
What's On: NY*Confidential resides on www.nyconfidant.com.
Facebook: https://www.facebook.com/NYConfidential/
If you would like a friend to subscribe or have an event to add…
You can also share it, and suggest others subscribe…
A still life? A portrait? Come to the Brooklyn Art Library — home to The Sketchbook Project, which contains over 45,000 sketchbooks from over 130 different countries — for drinking and drawing.
BOOK READINGS, TOURS + PERFORMANCE, ETC.
Moth Story Slam: 10 stories, 3 teams of judges, 1 winner. Theme: Worth. HousingWorks Bookstore Cafe, 20 Feb.
History of Jazz in NYC' Listening Party: Explore the history of jazz in NYC at the recently reopened Café Bohemia, a historic home to some of the world's greatest jazz musicians, including John Coltrane and Miles. Cafe Bohemia, 22 Feb.
Underground Manhattan, The History of the NYC Subway System: Explore the oldest subway stations in New York City working up from Brooklyn Bridge/City Hall station to Grand Central Terminal. Includes the art, architecture, and secrets hiding in plain sight. Municipal Building, 1 Centre St., 22 Feb.
Inside the Members-Only New York Society Library: See a members-only library dating back to 1754 that has been through it all, from getting looted by British soldiers George Washington's neglect of two books. 22-23 Feb.
Underground Art of the NYC Subway: Join tour guide Justin Rivers on an in-depth tour of the NYC subway art, from depictions of Fulton's first steamboat to the newly minted Second Avenue stop. 42nd Street and 7th Ave., 23 Feb.
The Greene Space Presents Micropolis, It's Magic!: Join Micropolis podcast host Arun Venugopal and meet some of the artists expanding the image of their craft well beyond the man in the top hat. 44 Charlton St., 24 Feb.
Greenlight Bookstore Presents Erik Larson, The Splendid and the Vile: The author of The Devil in the White City and Dead Wake launches a portrait of Winston Churchill and London during the Blitz in cinematic detail. St. Joseph's College, 24 Feb.
Books Are Magic Presents Patrick Radden Keefe, Say Nothing: In December 1972, Jean McConville was dragged from her Belfast home by masked intruders; her children never saw her again. Everyone knew the IRA was responsible. 225 Smith St., 24 Feb.
Powerhouse Presents Margarita Montimore, Oona Out of Order: It's New Year's Eve 1982, and as the ball is about to drop, Oona Lockhart is seconds away from turning 19. Only, when the clock strikes midnight, Oona faints, and awakens to age 51. 28 Adams St., Dumbo, Brooklyn, 25 Feb.
The Bell House Presents #Adulting: Michelle Buteau & Jordan Carlos welcome guests to break down the what, the how, the where and the why #ADULTING is the puberty you opt into. With Special Guests: Padma Lakshmi, Amber Ruffin and Dan Ahdoot. 25 Feb.
Powerhouse Presents Kathleen Barber, Follow Me: A psychological thriller about an Instagram influencer with a fan who is determined to take things offline. 28 Adams St., Dumbo, Brooklyn, 26 Feb.
Inside the Secret "Treasures in the Trash" Museum: A behind-the-scenes look inside a curated 50,000 piece collection of New Yorkers' trash dating back to the 1980s. NYC Department of Sanitation Garage, 27 Feb.
Powerhouse Presents Andrea Bernstein, American Oligarchs, with authors of The Fixers: Join authors Andrea Bernstein, Joe Palazzolo and Michael Rothfeld as they discuss their books about Donald Trump's dark universe. 28 Adams St., Dumbo, Brooklyn, 27 Feb.
The NY Adventure Club Happy Hour: Join New York Adventure Club for monthly Happy Hour inside a bar modeled after an 1890 Caribbean mansion. Kingston Hall, 27 Feb.
NPR's Ask Me Another: The rambunctious live show from NPR and WNYC that mixes trivia games with comedy and music to make an hour of mind-boggling fun. With VIP Guest comedian Larry Owns. The Bell House, Brooklyn, 27 Feb.
Spirits of Brooklyn Haunted Trolley and Distillery Tour: Madame Morbid Trolley Tours and Kings County Distillery put on this haunted tour in a Victorian Trolley by night, followed by a spooky tour and whiskey tasting at Kings County Distillery. Brooklyn Navy Yard, 27 Feb.
Exploring the United Palace Wonder Theatre: Step inside the largest theater on Broadway to see the Byzantine-Romanesque-Indo-Hindu-Sino-Moorish-Persian-Eclectic-Rococo-Deco architecture of one of the five Loew's "Wonder Theatre" movie palaces built in 1929. 4140 Broadway, 28 Feb.
Drunk Black History: Comedians Brandon Collins and Gordon Baker-Bone host this interactive show where prominent Black historical figures will finally get their due through drunken anecdotes from booked guests! Caveat, 29 Feb.
Drink n' Draw @ Brooklyn Art Library, World's Largest Sketchbook Collection: An afternoon of art games and activities at the Brooklyn Art Library — home to The Sketchbook Project, which contains over 45,000 sketchbooks from over 130 different countries. 30 Frost St., Brooklyn, 29 Feb.
How ugly can it get at a City Hall meeting? Just ask Tracy Letts, a native of Oklahoma, and author of The Minutes, now on Broadway.
THEATRE (NEW)
The Minutes: Follows the inner-workings of a city council meeting in the small town of Big Cherry — and the hypocrisy, greed, ambition and devious doings that ensue. Cort Theatre, begins 25 Feb.
Company: Bobbie's 35th birthday party, and all her friends keep asking, Why isn't she married? Isn't it time to settle down and start a family? As Bobbie searches for answers, she discovers why being alive in 21st-Century New York could drive a person crazy. Bernard Jacobs, 2 March, previews.
Who's Afraid of Virginia Woolf: A new company of theatrical powerhouses takes on this landmark drama, 60 years after its Broadway premiere. Booth Theatre, 3 March thru 2 Aug.
The Lehman Trilogy: Weaving together nearly two centuries of family history, this epic theatrical event charts the humble beginnings, outrageous successes, and devastating failure of the financial institution that would bring the global economy to its knees. Nederlander Theatre, 7 March thru 28 June.
Beyond Babel: Inspired by Shakespeare's Romeo & Juliet, Beyond Babel illustrates the division of families, friends, and a community of people when a wall is built between them. Gym at Judson Theater, thru 29 March.
Bob & Carol & Ted & Alice: A bittersweet comic take on the sexual revolution in which the suavely conventional lives of two successful young couples open their minds to changing attitudes. Pershing Square Signature Center, thru 22 March.
72 Miles to Go: Seventy-two miles. That's the space between a recently deported mother in Nogales, Mexico and her husband and children in Tucson. It's distance measured in the graduations, anniversaries, and countless daily moments. Laura Pels, thru 3 May.
The daily routine of Julie Blackmon in Springfield, Missouri, reflects the balance between the darkness and charm of contemporary American life. At Fotografiska.
CANVAS (NEW)
Souls Grown Diaspora: Explores a generation of leading contemporary visionary African-American artists from the U.S., and situates their work into an art-historical lineage shaped by the Great Migration: Apex Art, thru 7 March.
Madame d'Ora: Born Dora Kallmus (1881–1963), Madame d'Ora was the most acclaimed portraitist of fin de siècle Vienna, and went on to create one of the most stylish Art Deco studios in Paris in the 1920s. The Neue Galley, thru 8 June, $25.
José Parlá: It's Yours:The first solo museum exhibition of the internationally renowned artist and his personal connection to the Bronx, which shaped Parlá's views. Bronx Museum of the Arts, Bronx, 26 Feb., thru 16 Aug., Free.
Met's British Galleries Reopening: 11,000 square feet devoted to British decorative arts, design, and sculpture created between 1500 and 1900… with a fresh perspective on the period. The Met, opens 2 March.
Gerhard Richter, Painting After All: Spans Richter's six-decade-long preoccupation with the twin modes of painterly naturalism and abstraction, in relation to photographic realism. Comprising over one hundred works from the artist's prolific career. Met Breur, 4 March thru 5 July.
Fotografiska Presents Julie Blackmon, Fever Dreams: Familiar and ordinary scenes of Blackmon's daily routine in her hometown of Springfield, Missouri, reflect a delicate balance between the darkness and charm of contemporary American life in suburbia. 281 Park Ave South, 5 March thru 3 May.
Streetscapes & Subways, Photographs By Pierre P. And Granville W. Pullis: A rare view of the last days of "old New York" through the lenses of two of the earliest photographers of subway construction. New York City Transit Museum, Brooklyn.
New York Botanical Garden Presents The Orchid Show, Jeff Leatham's Kaleidoscope: Leatham's bold and colorful vision unfolds through captivating installations and designs, transforming each gallery into thousands of bursts of forms and colors. 2900 Southern Boulevard, Bronx, thru 19 April.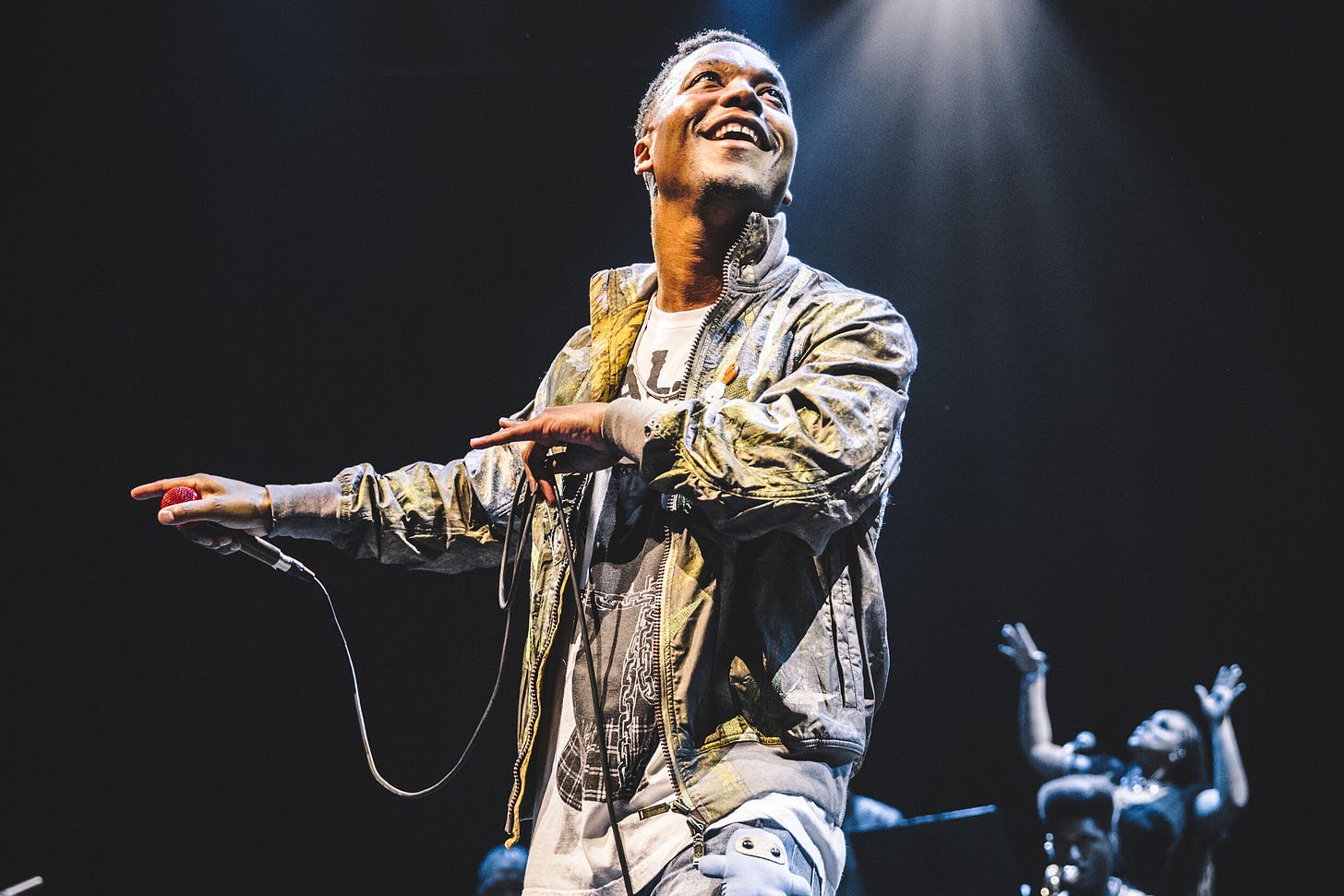 Lupe Fiasco is getting a lot of play for doing Food & Liquor live. Bringing it to Brooklyn Steel in March.
MUSIC
Songkick, Ticketfly or Bowery Presents
Kamasi Washington: 20 Feb., Kings Theatre
Live from Here with Chris Thile, Feat. Nathaniel Rateliff & Josh Gondelman: 22 Feb., Town Hall
Wolf Parade: 24 Feb., Brooklyn Steel
Glass Animals: 26 Feb, Music Hall of Williamsburg
Dashboard Confessional: 10-11 March, Webster Hall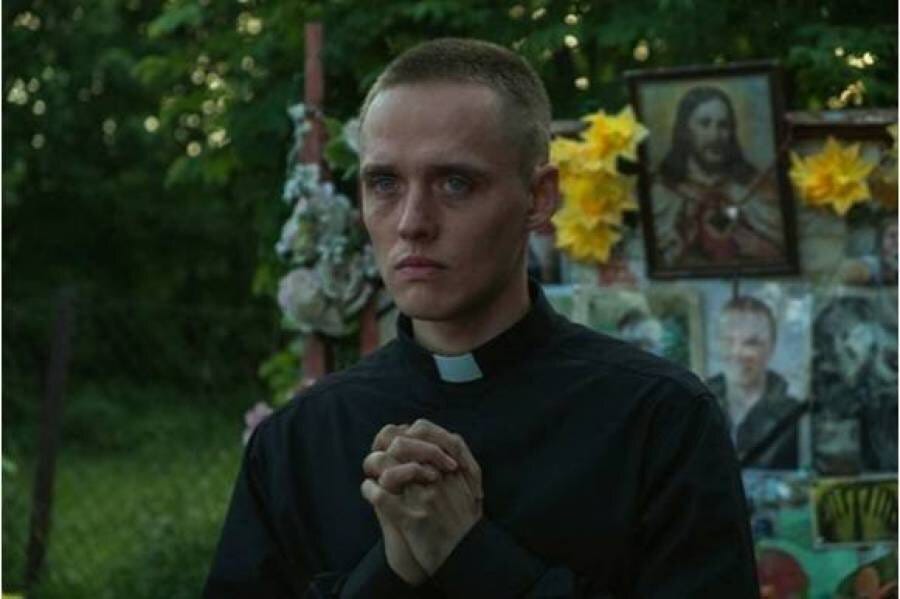 Daniel has a spiritual transformation while living in a Youth Detention Center, but is forbidden from priesthood. What happens when he nonetheless accidentally takes over the local parish in Corpus Christi.
CINEMA
Corpus Christi: Daniel experiences a spiritual transformation while living in a Youth Detention Center, but his criminal record prevents life as a priest.. When he is sent to work at a carpenter's workshop in a small town, he nonetheless accidentally takes over the local parish. Film Forum, SoHo.
Emma: Jane Austen's beloved comedy about finding your equal and earning your happy ending, is reimagined in this delicious new film adaptation.Angelika, West Village.
Seberg: Inspired by true events about the French New Wave darling and Breathless star, Jean Seberg (Kristen Stewart), who in the late 1960s was targeted by the FBI because of her support of the civil rights movement. Angelika, West Village.
Standing Up, Falling Down: Scott Rollins has crashed at stand-up comedy. and has no choice but to regroup at his parent's house in Long Island. While trying to figure out what to do next, Scott meets eccentric dermatologist, Marty (Billy Crystal), who has regrets of his own. Cinema Village, East Village.
Balloon: In 1979, the Strelzyk and Wetzel families try to flee East Germany in a self-made hot-air balloon. But after the balloon crash-lands just before the West German border, the Stasi find traces of them. Quad Cinema, West Village.
Once We Were Brothers: Robbie Robertson and The Band is a confessional, cautionary, and occasionally humorous tale of Robbie Robertson's young life and the creation of one of the most enduring groups in the history of popular music, The Band. IFC Center, West Village.
Premature: On a summer night in Harlem, Ayanna meets Isaiah. It's not long before these two artistic souls are in a passionate summer romance. But as the highs of young love give way to real consequences, Ayanna must confront the complexities of the adult world. IFC Center, West Village.
Get ready for basketball, basketball, basketball, as the hoops take over March and that madness begins. Don't forget the draws!
SPORT
v. Orlando Magic, 24 Feb. 7:30pm
v. Memphis Grizzlies, 4 March, 7:30pm
v. San Antonio Spurs, 6 March, 7:30pm
v. Chicago Bulls, 8 March, 3pm
v. Washington Wizards, 18 March, 7:30pm
v. Boston Celtics, 21 March, 6pm
v. Orlando Magic, 23 March, 7:30pm
v. LA Clippers, 25 March, 7pm
v. Cleveland Cavaliers, 28 March, 6pm
v. Portland Trailblazers, 30 March, 7:30pm
v. San Jose Sharks, 22 Feb., 7pm
v. Philadelphia Flyers, 1 March, 12pm
v. St. Louis Blues, 3 March, 7pm
v. Washington Capitals, 5 March, 7pm
v. New Jersey Devils, 7 March, 7pm
v. Calgary Flames, 16 March, 7pm
v. Pittsburgh Penguins, 18 March, 7:30pm
v. Columbus Blue Jackets, 24 March, 7pm