NY*Confidential Presents: The Juneteenth Edition
Juneteenth celebration in 1900 at Eastwoods Park. Credit: National Museum of African American History and Culture.
Greetings NY*Confidants!
In the past, the general population of the U.S. has sort of brushed aside many holidays that celebrate black history. Martin Luther King Jr. Day was a battle in the 1990s, as was Black History Month. But things changed thanks to some old fashioned protest and policy changes. Change is taking place again. Governor Mario Cuomo has declared Juneteenth, America's second Independence Day celebrating the end of slavery, a state holiday — events have been planned all over the city. Would this have happened were it not for the historic protests in the wake of George Floyd's death? It's questionable. It seems as if people of color have to fight for every right that the rest of us take for granted. But all of us can rally behind this effort. I know I will be taking part in the Juneteenth 5k/Bike Ride in Brooklyn. Other events:
Manhattan: Several activist groups are putting on rallies in Washington Square Park beginning at 10am. Activists will gather at Broadway and Park Place and then march toward City Hall for speeches. 2 to 5pm.

Brooklyn and Bronx: At 6pm, marchers will gather at Grand Army Plaza in Brooklyn and march through Flatbush to Fort Greene Park for various performances. JusticeforGeorgeNYC is staging a protest at Soundview Park in the Bronx at 3pm.

Brownsville Heritage House will hold gospel performances, slavery exhibits, garden tours, dances, works from local artists and more. 581 Mother Gaston Blvd, 2nd Floor, 6 to 8pm on 19 June; 12 to 8pm on 20-21 June.
SummerStage Anywhere digital series will honor Juneteenth, with a free digital day of dance. At 7pm the YouTube channel will feature a panel discussion, Reflecting the Times, followed by a tribute performance of "Hanging Tree" — a solo dedicated to the transatlantic slave trade — featuring Jamel Gaines Creative Outlet Dance Theatre.

Juneteenth Celebration for the Culture is an outdoor, socially distant Juneteenth celebration. Guests are encouraged to bring a blanket, snacks and beverages to the 125th Street Entrance of West Harlem Piers for games and other amusements. 20 June, noon.
Enjoy your Juneteenth, everyone, and stand up for others!
Portions of What's On: NY*Confidential reside on www.nyconfidant.com and Facebook.
Pass it on and support the artistic community. We do it for love, but must survive.
The New York subway contains a first-rate art museum. Get up close and personal with a selection created for MTA Arts & Design.
BOOK READINGS, TOURS + PERFORMANCE
UNLESS STATED, EVENTS ARE FREE; TIMES ARE EDT
NY Adventure Club Virtual Group Trivia Night: A virtual group trivia night that pits teams against one another to answer questions from diverse topics and themes. 18 June, 8pm, $10.
Virtual Speed Dating with littlefield x Filter Off: Create authentic connections during your quarantine! Buy a ticket, download the Filter Off app and set up a profile for pre-selected dates.18 June, 8pm, Donation.
Pop-Up Magazine, Spring Issue, At Home: Two months ago, Allison, a newly graduated medical student in New York was thrust into being a doctor in the midst of the pandemic. Allison shares her story with Emily Silverman, host of The Nocturnists podcast.
'Bill Graham and the Rock & Roll Revolution''Webinar: Explore several decades of Rock & Roll history through the life of Bill Graham, one of the most legendary rock promoters who launched the biggest names in rock. 19 June, 1pm, $10.
The Greene Space Presents Micropolis, World Refugee Day: Together with the UN Refugee Agency, WNYC reporter Matt Katz hosts an enlightening live conversation with UNHCR Director Ruvendrini Menikdiwela and refugee activists Hala Haj Taleb, Asif Safdary and Nhial Deng. 19 June, 3pm, Live.
Japanese Whisky Tasting: Nikka and Suntory are the biggest players in Japanese whisky, but aren't the only ones. Whisky distilling in Japan actually dates back to the 1400s, and is also just as expansive as powerhouse whisky regions Scotland and Ireland. 19 June, 8pm, $10.
The Greene Space Presents Juneteenth Celebration: WNYC highlights urgent and thought-provoking performances and conversations by Black Americans. Featuring Nikole Hannah Jones, Savion Glover, Misty Copeland, Wynton Marsalis, Cornel West and many others. 19 June, 7pm.
'The Secrets of Grand Central Terminal' Webinar: Grand Central has captivated people from around the world with its architectural beauty, but it's also full of secrets — from being the target of a failed Nazi sabotage mission during WWII to the hidden that keep train traffic running. 22 June, 8pm. $10.
Greenlight Bookstore Presents Rosalie Knecht, Who Is Vera Kelly: When ex-CIA agent Vera Kelly loses her job and her girlfriend in a single day, she reluctantly becomes a private detective. Heartbroken and cash-strapped, she takes a case that dredges up dark memories and attracts dangerous characters. 22 June, 7:30pm.
Alphonse Mucha: The Illustrator Who Changed the World of Advertising:A virtual journey through the Paris portion of Alphonse Mucha's career, and the exhibition Alphonse Mucha: Art Nouveau / Nouvelle Femme. 23 June, 5:30pm. $10.
Greenlight Bookstore Presents Kyle McCarthy, Everyone Knows How Much I Love You: Following their reunion, former best friends Rose and Lacie fall into an intense, uneasy friendship. But the difference between fiction and fact begins to blur, and Rose soon finds herself repeating the worst moments of her and Lacie's lives. 23 June, 7:30pm.
Underground Manhattan, The History of the NYC Subway System: Explore the oldest subway stations in New York City working up from Brooklyn Bridge/City Hall station to Grand Central Terminal. Includes the art, architecture and secrets hiding in plain sight. 23 June, 8pm, $10.
'The Secrets of TriBeCa: Lofts, Artists, & Alleyways' Webinar: Known today for its namesake film festival and high-end private homes, it was anything but for nearly 300 years. This is the real story of the sailors, merchants and artists that once called this neighborhood home. 24 June, 1 pm, $10.
ART on Lockdown: As governments across the Latin America implement harsh measures in response, see three artists from its art organizations discuss making art in the time of COVID-19. 24 June, 12 pm.
'Five Points, NYC's Most Notorious 19th-Century Slum' Webinar: Step back in time to explore the forgotten stories and historic remnants of Five Points, a 19th-century slum described by Charles Dickens as where "poverty, wretchedness, and vice are rife." 24 June, 5:30pm, $10.
Powerhouse Books Presents Alicia Yin Cheng, This Is What Democracy Looked Like: A visual history of U.S. ballots from the 19th and early 20th centuries that reveals unregulated and, at times, absurd designs reflecting the changing times. 25 June, 7pm.
The Ultimate Virtual Wine Crash Course with Sommelier Amy Karasavas: While some people spend their lives trying to understand everything about wine, one NYC-based sommelier focuses on the basics: 25 June, 8pm, $10.
'The History of Fashion Exhibitions, From Bland to Blockbusters' Webinar: When the Costume Institute was added to The Met in 1946, it was blah. That changed when Diana Vreeland, former Editor-in-Chief of Vogue, joined the museum in 1972. See the story. 26 June, 1pm, $10.
Virtual Murder Mystery with the Mount Vernon Hotel Museum: Find out whose skeleton has been discovered at the historic Mount Vernon Hotel, an experience that pits teams against one another to solve the murder. 26 June, 8pm, $10.
Virtual Animal Meet & Greet with the Staten Island Zoo: A virtual trip to Staten Island Zoo, which contains more than 1,100 animals, and over 350 species from six of the world's seven continents. 30 June, 3pm, $10.
'MTA Arts & Design: NYC's Great Underground Art Museum' Webinar: The New York subway contains a first-rate art museum comprised of works created in mosaic, terra cotta, bronze, glass, and mixed-media sculpture, making it one of the greatest free art galleries in the world. Get up close and personal. 30 June, 5:30pm, $10.
'Out of Body Experiences' Webinar w/ Sci-fi Author Jon Womack: Have you ever dreamt you could fly? Do our loved ones await us on the "Other Side?" Set sail on a journey into noetic realms and past lives. 2 July, 1pm, $10.
'History of Jazz in NYC' Webinar & 78rpm Listening Party: From Harlem'' mob-run night clubs in the 1920s, to the narrow basement joints lining 52nd Street, New York would eventually become the undisputed Jazz Capital of America. 1 July, 8pm, $10.
See Online streams of select Live From Lincoln Center broadcasts featuring Broadway productions, including Rodgers and Hammerstein's Carousel. A new show every Friday.
THEATRE + DANCE + PODCASTS
Love from BAM, Watermill: Jerome Robbins' piece follows a male figure through scenes from his youth, each moment of his journey framed by lunar transitions — a rumination on experience and memory, named for the beloved Long Island town. 18 June.
Public Everywhere: Enjoy works from the Public Theatre specifically for this moment of unprecedented isolation, including What Do We Need To Talk About?, Latin History For Morons, Play At Home, Watch Me Work and Brave New Shakespeare Challenge.
Joe's Pub, Live from the Archives: While Joe's Pub is temporarily closed to public access – a free series of live-streamed and archived performances from its iconic stage. Includes Spirit Night, Isaac Oliver and Make Music New York.
Faith Ringgold's American People Series #20: Die. Created in the summer of 1967, during waves of civil unrest, the final work in Ringgold's American People Series, unflinchingly confronts race relations. Ringgold discusses it with MoMA on 18 June.
CANVAS
MoMA Virtual Views, Faith Ringgold: live Q&A: "How could I as an African-American woman artist document what was happening all around me?" asked Faith Ringgold in speaking about American People Series #20: Die. Created in the summer of 1967 the work unflinchingly confronts race relations. Ringgold discusses it with MoMa. 18 June, 8pm.
Felix Gonzalez-Torres, "Untitled'' (Fortune Cookie Corner): In an era of social distancing, can a fortune cookie help bring us together? That question, is at the core of a new exhibition by the late artist Felix Gonzalez-Torres.
Edward Hopper,Fondation Beyeler: Hopper's iconic representations of the infinite expanse of American landscapes and cityscapes — key to understanding his work. Thru 26 July.
An ode to the Governor's Ball, which was cancelled this year. Enjoy some indoor concerts.
MUSIC + COMEDY (STREAMING)
SummerStage Anywhere: SummerStage will not take place in May and June, per City restrictions. In the meantime, new live performances and original content are on the website every week.
LAMC at SummerStage: A showcase featuring key voices from the Latin LGBTQ+ community including pop singer Kany Garcia, hip hop artist Mabiland, indie electro pop musician Javiera Mena, and rock band Circo. 18 June, 8pm.
LIVE CONCERTS
Ticketmaster, BoweryPresents, LiveNation
Lupe Fiasco Presents Food & Liquor: 28-29 June, Brooklyn Steel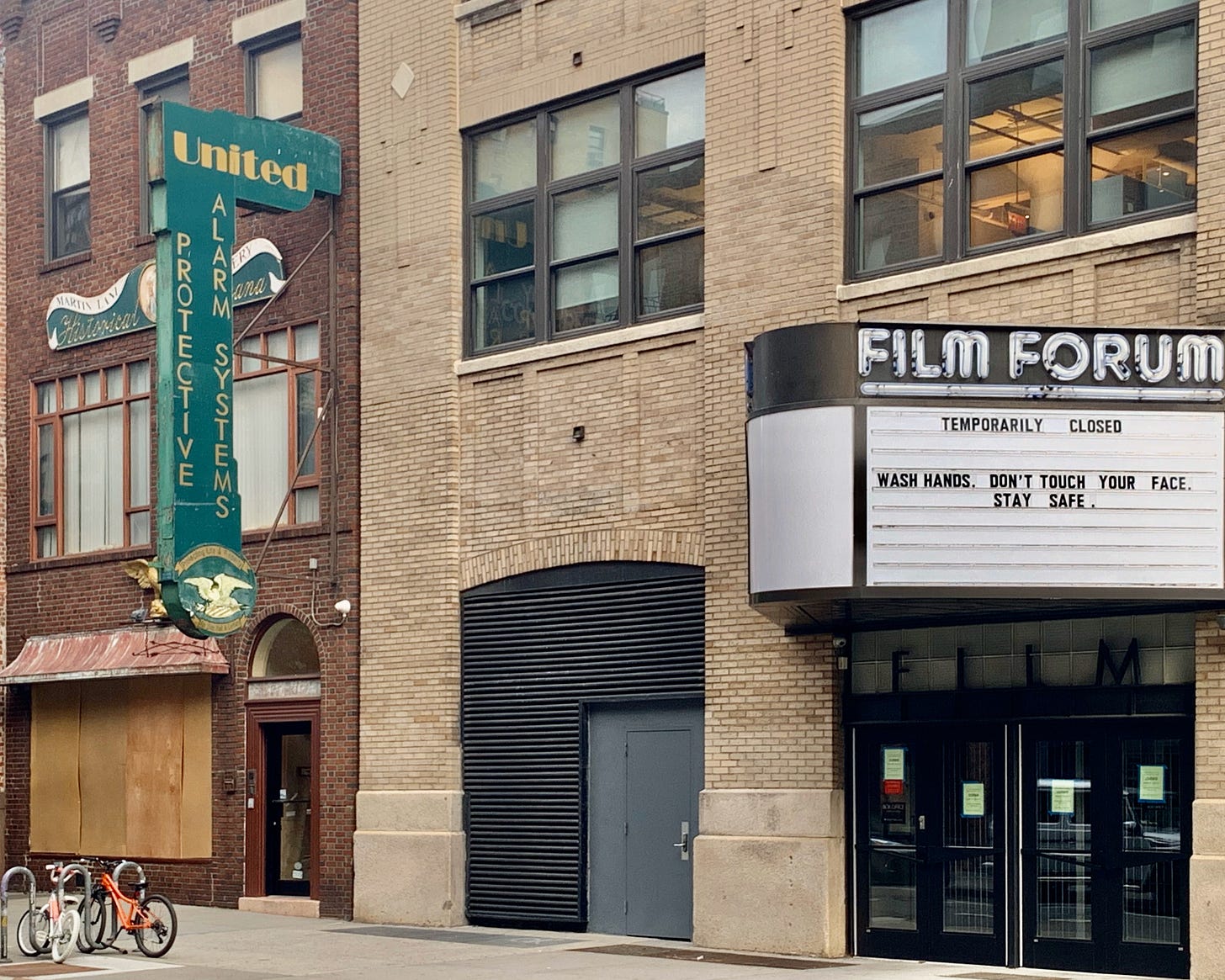 Film Forum is still closed, but stream all of its unique blend of movies on your small screen.
CINEMA (STREAMING)
Film Forum Virtual: Watch some of the best films of the year from home and support Film at Lincoln Center. Select new releases:
Human Rights Watch Film Festival: For 31 years, the HRW Festivalhas been presenting a diverse and empowering selection of films to audiences across the world.
Reunited: A story of love across borders, and the compromises a family must make when they are torn apart by circumstances beyond their control. 20 June, 3:30pm.
Resistance: Before he was the world-famous mime Marcel Marceau, he was Marcel Mangel, an aspiring Jewish actor who joined the French Resistance to save the lives of thousands of children orphaned at the hands of the Nazis. Jesse Eisenberg stars in this compelling drama. IFC.
On the Record: The story of music executive Drew Dixon as she grapples with her decision to become one of the first women of color, in the wake of #MeToo, to come forward and publicly accuse hip-hop mogul Russell Simmons of sexual assault. HBO/Max.
John Lewis, Good Trouble: Using interviews and rare archival footage, John Lewis: Good Trouble chronicles Lewis' 60-plus years of social activism and legislative action on civil rights, voting rights, gun control, health-care reform and immigration. 3 July.
Mayak (The Lighthouse): Maria Saakyan's elegiac, semi-autobiographical The Lighthouse unfolds in the very early '90s, against the backdrop of the Caucasus wars that plagued Georgia, Armenia, and Azerbaijan. As the scope of this mass-scaled conflict extends itself to one woman's small village, she is forced to drop everything, move to Moscow, and start over from scratch. 3 July.
Black Lives Matter is seen on the back of Aston Villa players' shirts. The Premier League has returned to NBC Sports.
SPORT
PremierLeague: For six weeks, England's favorite sport is back, sans fans. NBC Sports.
French Open, A Tribute: In 1980, the Fédération Française de Tennis partnered with Galerie Lelong & Co. to begin a series of annual poster designs with commissioned works by contemporary artists from around the world. Through these diverse art pieces, the creators demonstrate how the sport of tennis itself can be an art. Online, Int'l Tennis Hall of Fame.