NY*Confidential: End of the Tracks Edition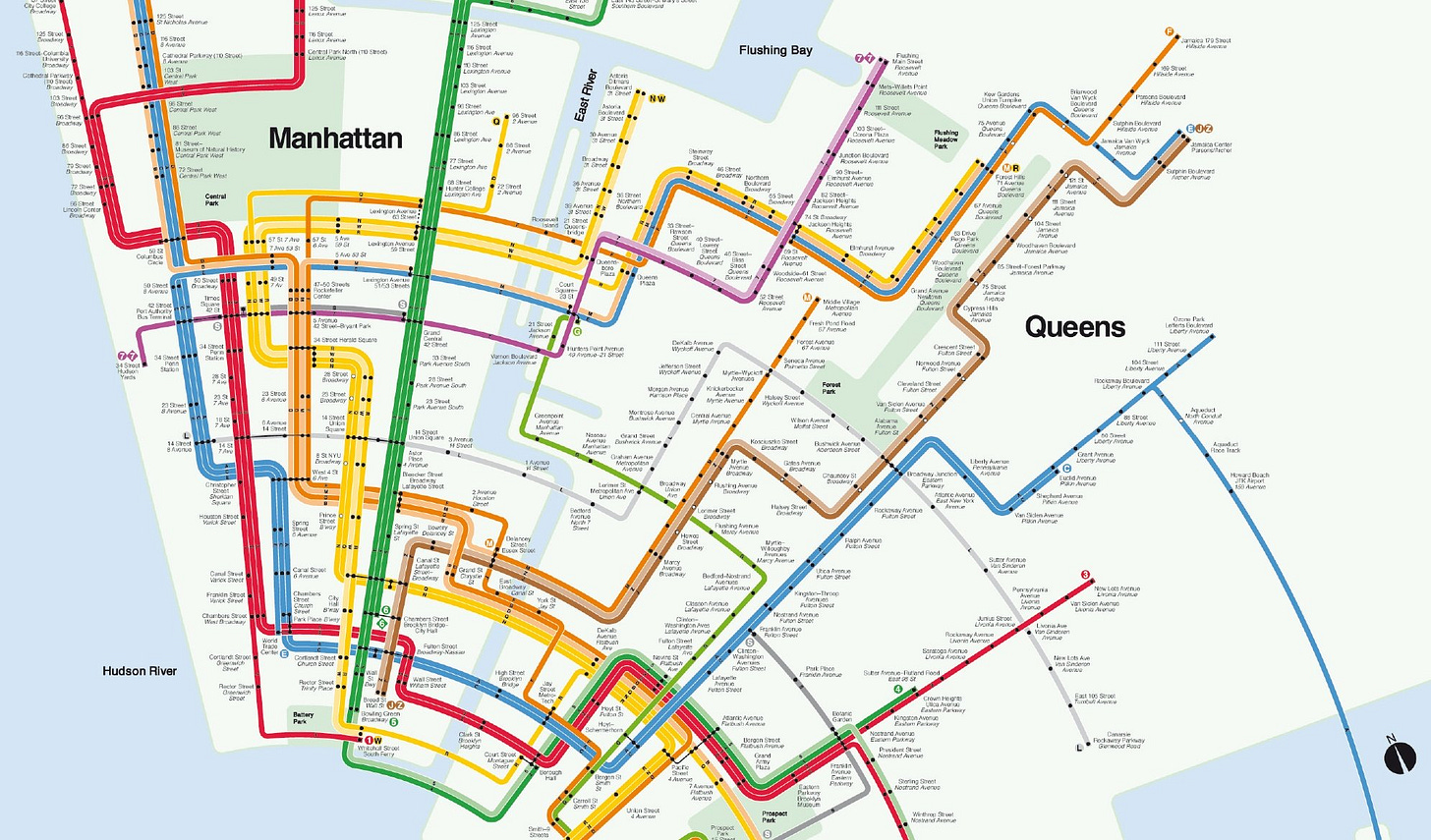 The map of New York City's subway may be getting a makeover. Six new map designs have popped up inside the 86th Street station in Bay Ridge, Brooklyn. Currently works in progress, the MTA wants riders to help them design a new map.
Dear NY*Confidants,
Greetings from a much-needed break from New York. Over that break, I decided I needed to reorient some of my priorities. Unless there is great outcry for this newsletter, I am putting it on indefinite hold. This is the last issue… the end of the tracks, the road, the Greenway…
On a personal note, I want to thank all my readers and cheerleaders of the past four or five years, who have truly appreciated my efforts. I came up with NY*Confidential because I wanted to enjoy my life and this city when I stopped drinking in 2012, and not spend any of my free time in AA meetings, or anything close to them. I wanted my friends and family to come to events with me and possibly get excited about the Magritte exhibit at MoMA or the Belle & Sebastian concert at Forest Hills (the best place to see outdoor concerts, hands down) or the New York Empire World Team Tennis (and Mets games). And to that extent, I think I have been successful. This newsletter has pushed me to really participate in New York.
That said, putting it together even every other week just takes up too much time. The idea behind this little publication — to offer my creative friends a resource for their "stuff" — never materialized, either. The competition (New Yorker, TimeOut, New York Times whatever) is steep. I am likely moving to London in the late fall. And well, I guess I need to find a "real" job — one that pays something. Believe me, I have applied for grants, funds, anything to keep this kind of journalism alive, but the money isn't coming… at all.
I truly love being a journalist. It's the best job going. Just about every day is a new adventure, a new something to see, a new person to meet, a new story to tell. This will come off as schmaltzy, but I believe journalism is not a job. It's a calling, a public service. Done right, it changes hearts and minds, fosters action or forgiveness, provides hope and alerts citizens to the angelic or demonic in our world. The problem is, I just can't find a sustainable way to practice it. And this hurts me at the core of my being.
But this is our collective situation. And to be honest, Unsubscribing from the dozens of weekly emails from almost every cultural institution in the city will help my inbox anxiety ;-) On that note, I just want to tell you all that I hope you enjoyed and benefitted from my endeavor. I know that some of you might have been added unwillingly, but to be honest, I wouldn't have added you if I didn't think you would have enjoyed. And also, the name of the game is subscribers — the higher the number, the more of a chance that you have a viable publication that sticks around.
If anything changes, you'll be the first to know. In the meantime, keep an eye on www.nyconfidant.com, which will have information through August and on regular events. Also, I recommend Untapped Cities for great cultural news and excursions.
-Adrian Brune, founder, editor-in-chief, inbox-motivator, journalist/NY*Confidential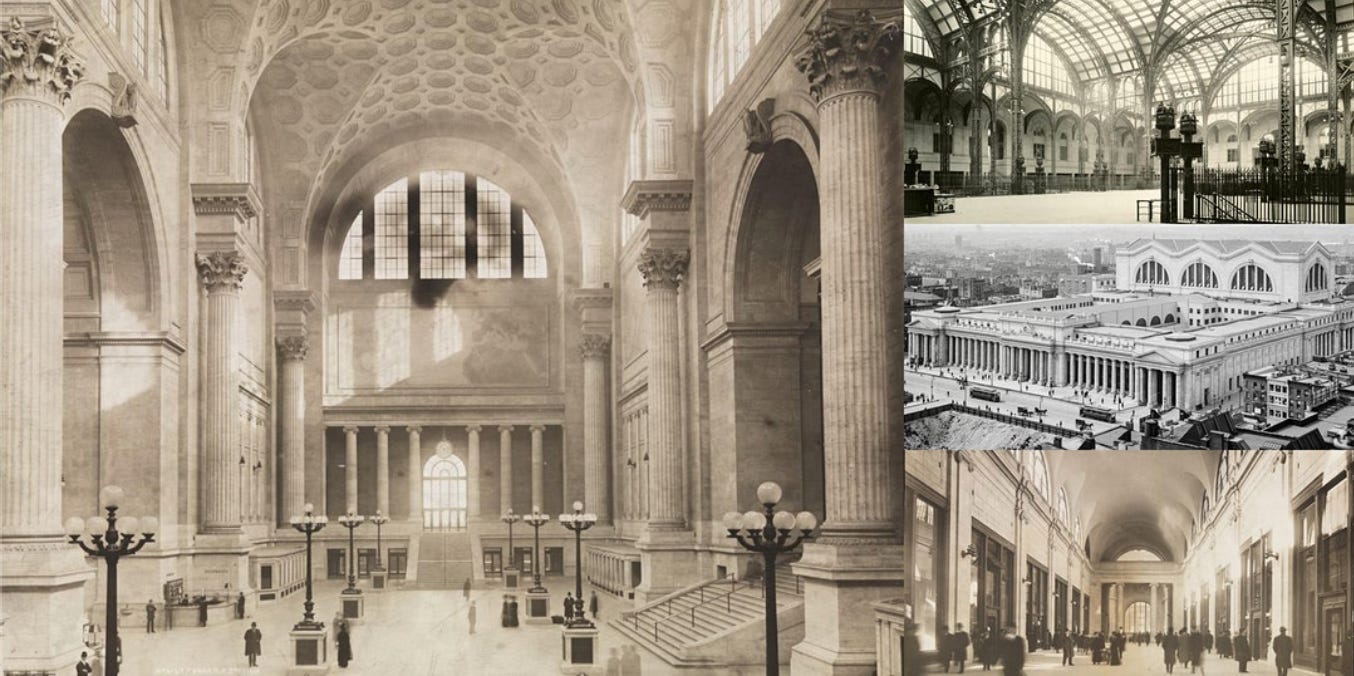 Miss your commute? See what you missed by not living in the era of Penn Station, which was 'not the Parthenon, but it might as well be'.
BOOK READINGS, TOURS + PERFORMANCE
IRL 'UNTAPPED CITY' TOURS RETURN!
'History of Jazz in NYC' Webinar & 78rpm Listening Party: From Harlem's mob-run night clubs in the 1920s, to the narrow basement joints lining 52nd Street, New York would eventually become the undisputed Jazz Capital of America. 6 August, 8pm, $10.
Greenlight Bookstore Presents Akwaeke Emezi, The Death of Vivek Oji: One day, in a town in southeastern Nigeria, a mother opens her front door to discover her son's body at her feet. What follows is the tumultuous story of one family's struggle to understand a child whose spirit is both gentle and mysterious. 6 August, 7:30pm.
NYPL Presents PEN America President Suzanne Nossel, Dare to Speak: Nossel's new book, Dare to Speak: Defending Free Speech for All, is a guide to maintaining democratic debate that is open and free-wheeling but at the same time respectful of a rich diversity of backgrounds. 6 August, 8pm.
Scandalous Tales from Early 20th-Century Upper West Side: By the late Victorian era, the Upper West Side and Harlem had become home to a coterie of well-to-do and wealthy families. But not all were upstanding members of their community. Explore the tales of the neighborhoods' most mischievous characters. 10 August, 8pm, $10.
NYPL Presents Edward Ball, Life of a Klansman: Ball returns to the subject of his first book, Slaves in the Family. This time, he tells the story of a warrior in the Ku Klux Klan, a carpenter in Louisiana who took up the cause after the Civil War: his his great-great-grandfather Polycarp Constant Lecorgne. 11 August, 8pm.
Strand Presents Isabel Wilkerson, Caste: The Origins of our Discontents: The Pulitzer Prize–winning author of The Warmth of Other Suns examines the unspoken caste system that has shaped America and shows it defines our lives. 11 August, 7pm, $37, includes copy of book.
Open Society Foundations Presents Eric Alterman, Lying in State: If there's one thing we know about Donald Trump, it's that he lies. But he's by no means the first president to do so. Alterman shows that, from early on, the United States has persistently expanded its power and hegemony on presidential lies. 11 August, 6pm.
'Pennsylvania Station: The Most Beautiful Train Station Ever Built' Webinar: From its soaring 150-foot ceilings inspired by the Roman Baths of Caracalla to its imperial colonnade entrances, Penn Station was a righteous portal into America's largest city — the story of one of the grandest public spaces ever built and its untimely demise. 12 August, 8pm, $10.
Strand Presents Sara Schaefer, Grand: Comedian Sara Schaefer's hilariously honest memoir follows the trip through the Grand Canyon with her sister that causes her to reflect on childhood and the scandal that changed her family forever. 12 August, 7pm.
Strand Presents Heather Cabot, The New Chardonnay: The Unlikely Story of How Marijuana Went Mainstream: Cabot's book explores the confluence of social, economic, and political forces that brought marijuana into the mainstream. Among them, the booming self-care industry, stressed-out professionals and seniors clamoring pain remedies. 13 August, 7pm.
'Controversial Public Art in NYC' Webinar: From sculptures installed against public opinion to statues of outdated role models, explore the past, present, and future of the city's most controversial art pieces. 13 August, 1pm, $10.
The Ultimate Virtual Wine Crash Course with Sommelier Amy Karasavas: Some people spend their lives trying to understand everything about wine; one NYC-based sommelier has a crash course on the basics: 13 August, 8pm, $10.
Old New York Told Through Antique 16mm Projector Short Films: Nearly 100 years before Netflix the talk of the town was 16mm technology. See how that tech facilitated a film revolution, with never-before-seen reels of NYC. 14 August, 8pm, $10.
'The Long Island Estates that Inspired The Great Gatsby' Webinar: A digital exploration of the magnificent estates of Long Island's 'Gold Coast' , believed to have inspired the classic 1925 F. Scott Fitzgerald novel. 17 August, 1pm, $10.
Greenlight Books Presents Betsy Bonner, The Book of Atlantis Black: A young woman is found dead on the floor of a Tijuana hotel room. An ID in a nearby purse reads 'Atlantis Black.' So begins Betsy Bonner's search for her sister, Atlantis, and the final months before her disappearance. 17 August, 7:30pm, $10.
'The Secrets of Grand Central Terminal' Webinar: Grand Central has captivated people from around the world with its architectural beauty, but it's also full of secrets — from being the target of a failed Nazi sabotage mission to hidden areas that keep train traffic running each day. 17 August, 8pm, $10.
'Edith Wharton's New York: NYC's Gilded Age Elite Society' Webinar: Celebrate the 100th Anniversary of Wharton's Pulitzer Prize-winning novel, The Age of Innocence, with a glimpse into Wharton's life and New York Gilded Age. 18 August, 5:30pm. $10.
Strand Presents Fatima Bhutto, The Runaways: Anita lives in Karachi's biggest slum and wants out. On the other side of Karachi lives Monty, whose father owns half the city and expects great things of him. Sunny doesn't fit in anywhere. These three lives will cross in the desert, where their secrets will force them to make a choice. 18 August, 6pm. $25, includes book.
Underground Manhattan, The History of the NYC Subway System: Explore the oldest subway stations in New York City (virtually) working up from Brooklyn Bridge/City Hall station to Grand Central Terminal. Includes the art, architecture, and secrets hiding in plain sight. 18 August, 8pm. $10.
'MTA Arts & Design: NYC's Great Underground Art Museum' Webinar: The New York subway contains a first-rate art museum comprised of works created in mosaic, terra cotta and mixed-media. Get up close and personal. 19 August, 5:30pm, $10.
'Forming the Metropolis: NYC's Rise Told Through Art' Webinar: Embark on an art-centric journey through 19th-century New York City, and see how the period between 1800 and the Civil War would lay the foundation to form the metropolis. 20 August, 5:30pm. $10.
NYPL August Book Club: All Adults Here by Emma Straub: Have a library card? Download a copy of the book on the free e-reader SimplyE. Then, look out for librarian-led discussion groups and special livestream events. 31 August, 7pm.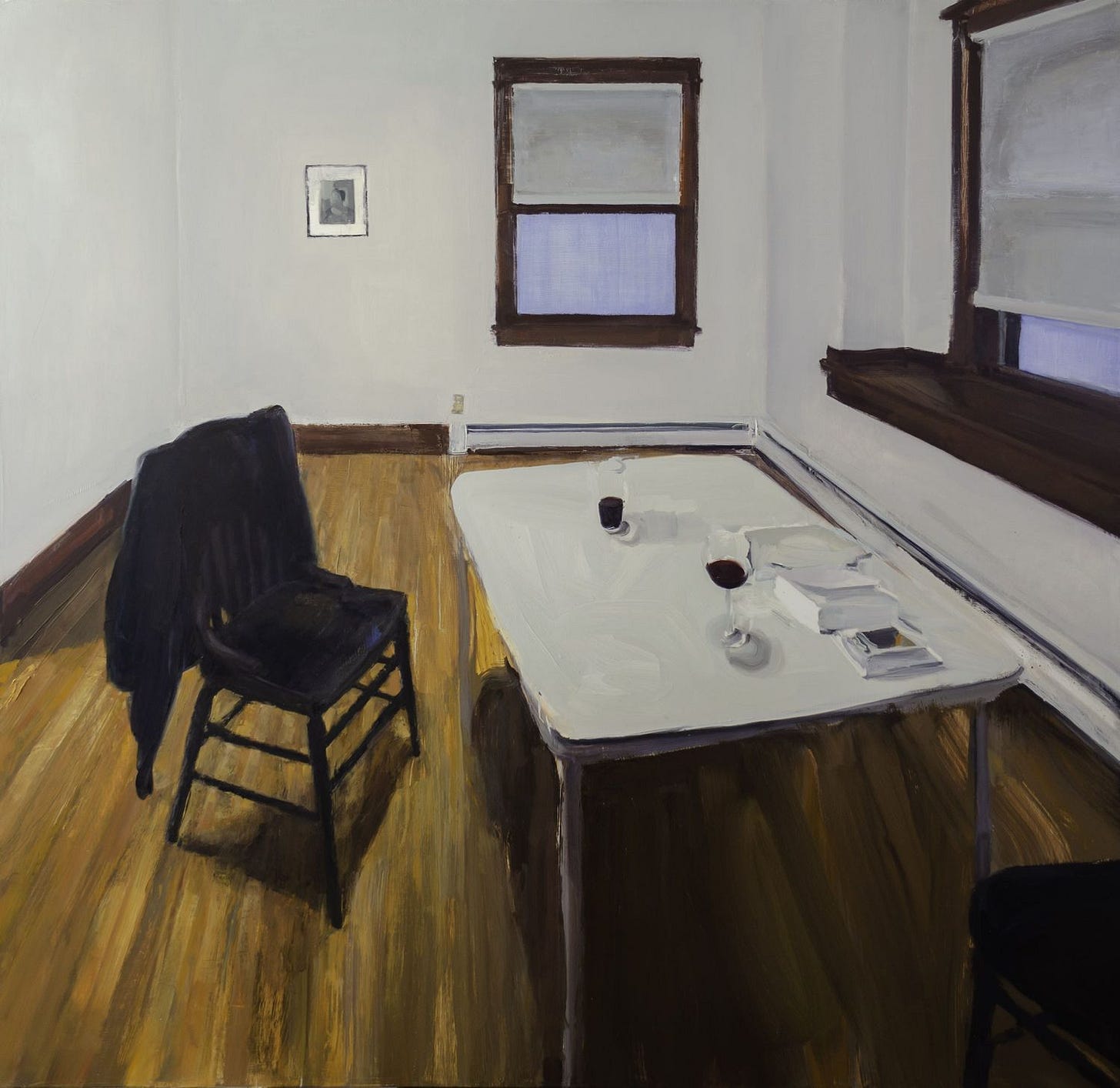 After spending six years living abroad Serena Stevens returned to Fort Madison, Iowa, to paint the distance between past and present. See Iowa Dream at Postmasters Gallery.
CANVAS
Serena Stevens, Iowa Dream: Stevens paints intimate spaces and nondescript objects of everyday life, vacillating between experience and memory, surface and subject. The familiar and overlooked trace the contours of a private world. Postmasters, 174 Franklin St., thru 12 Sept. By appt.
The Book of Ruth, Medieval to Modern: Famine and flight, emigration and immigration, foreignness: these are some of the societal issues touched upon by the anonymous author of the Bible's Book of Ruth. See the 18-foot-long, accordion-fold vellum manuscript, designed and illuminated by artist Barbara Wolff. Morgan Library.
Alexis Rockman, Lost at Sea: Rockman has blended sites of civilization and nature to deliver a prescient and occasionally apocalyptic vision of the ecological state of the planet. Sperone Westwater Gallery.
Monuments Now: The eye-catching ziggurat Because Once You Enter My House, It Becomes Our House, by Jeffrey Gibson — of the Mississippi Band of Choctaw Indians — introduces work by a trio of indigenous American artists that questions the nature of monuments. Socrates Sculpture Park, Long Island City.
Armageddon: In Hollywood, doomsday = an asteroid-dimpled White House, a decapitated Lady Liberty. Three artists — Oliver Laric, Louise Lawler, and Sara VanDerBeek — deconstruct this instinct through the Greek and Roman icons that inspired American art. Metro Pictures.
Edward Hopper, Fondation Beyeler: Focuses on Hopper's iconic representations of the infinite expanse of American landscapes and cityscapes that have rarely been highlighted in exhibitions. Thru 20 Sept.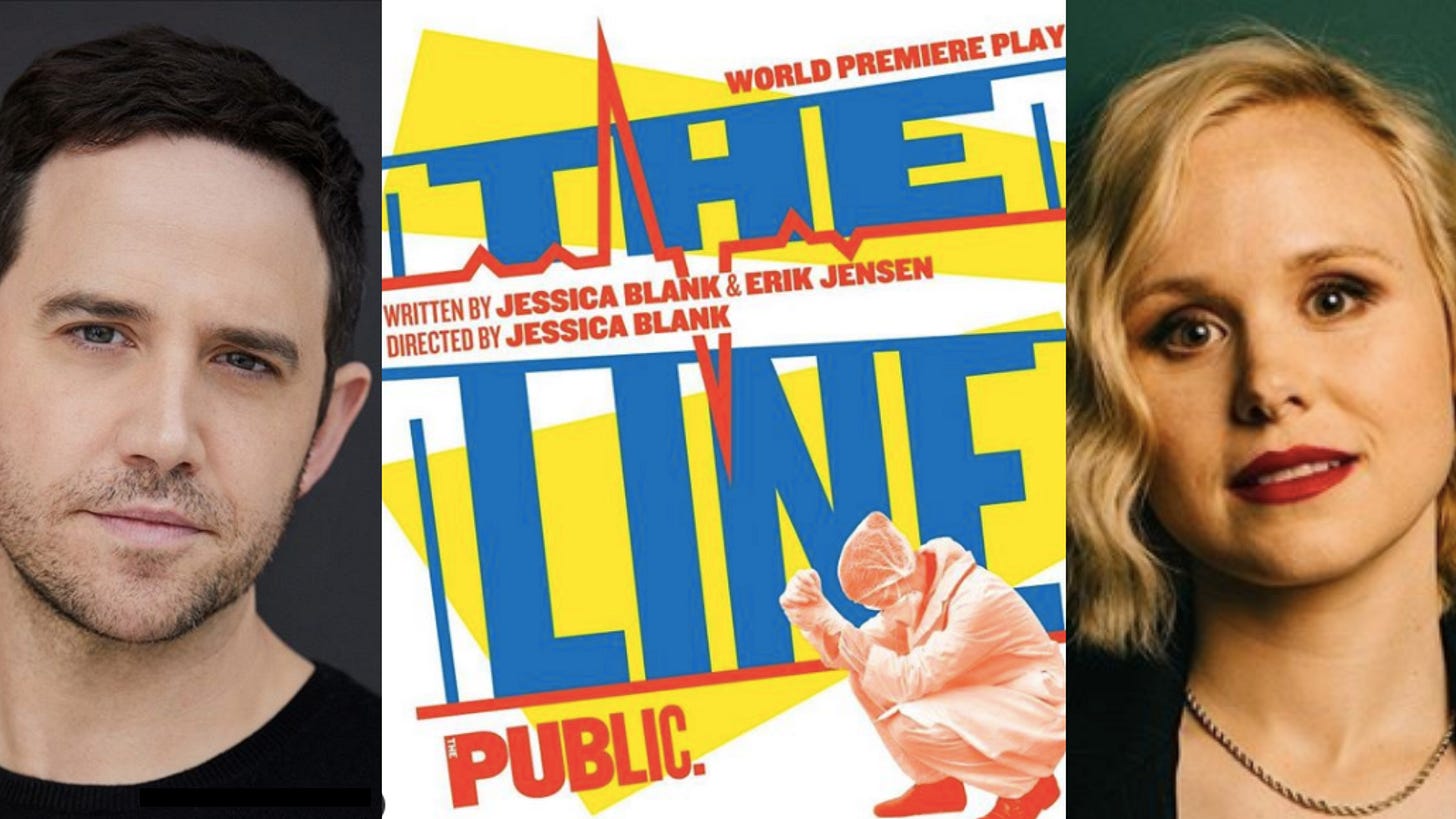 Cutting through the political noise, The Line reveals the lived experiences of frontline workers and their battle to save lives in a system built to serve the bottom line.
THEATRE + DANCE
The Line: Crafted from interviews with medical first responders during the COVID-19 pandemic, the play reveals the lived experiences of frontline workers and their battle to save lives in a system built to serve the bottom line. Thru 1 Sept.
Finish the Fight: They were tireless organizers. Tenacious fighters. And political geniuses. They were indigenous and immigrant. Together they won women the right to vote. A virtual play celebrating the unsung heroes of suffrage. 18 August.
Broadbend, Arkansas: Benny, an orderly at a nursing home, delicately balances his role as a caregiver to an ornery white resident in the midst of the Civil Rights Movement. Thirty years later, his daughter, Ruby, struggles to understand an incident of police brutality against her 15-year-old son. Thru 16 August.
And So We Come Forth: Richard Nelson has been writing about the Apple family of Rhinebeck, New York, for 10 years — mostly for The Public Theatre. This year, the cycle's siblings — and the actors portraying them — interact on Zoom, like everyone else. Thru 26 August.
Mostly Mozart Festival: This year, the Lincoln Center's festival will be on the radio, but kicks off with musicians performing short pop-up concerts featuring at outdoor locations across New York City. 10 August.
JoyceStream Presents A.I.M, Meditation: A Silent Prayer: The ten-minute work, cuts through mournful strings and the audio from Philando Castile's death, with the voice of Carrie Mae Weems listing the names and ages of Black people killed by the police. Artwork by Titus Kaphar highlights the dancers' prayer. Thru 14 August.
Covid-19? Daryl Hall and John Oates can handle it. But not The Man Eater. See them at Jones Beach.
UPCOMING SCREEN CONCERTS
Cayucas: 11 August, 3pm
Emel Mathlouthi: 11 August, 6pm
UPCOMING IRL CONCERTS
Ticketmaster, BoweryPresents, LiveNation
Hall and Oates: 25 Aug., Jones Beach
Morrissey: 17 Sept.,Hammerstein Ballroom
Josh Ritter: 22-23 Sept., Murmrr
The Revivalists: 30 Sept., Radio City Music Hall
Thom Yorke: 2 Oct., Radio City Music Hall
The Dandy Warhols: 12 Nov., Music Hall of Williamsburg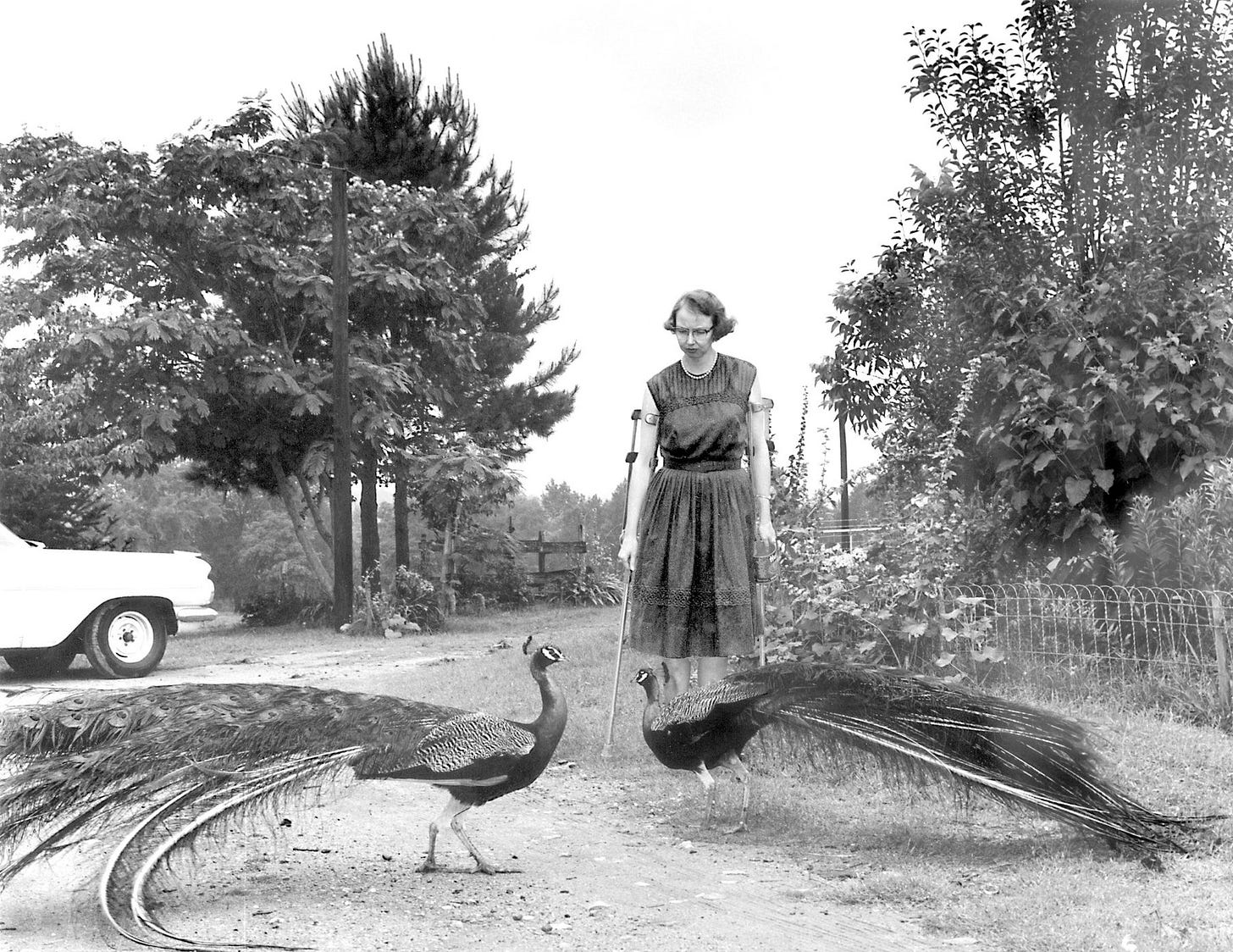 Flannery is an intimate exploration of the life and work of author Flannery O'Connor, a devoted Catholic, bird lover and Southern observer whose distinctive style influenced a generation of artists.
CINEMA (STREAMING)
Film Forum Virtual: Watch some of the best films of the year from home and support Film at Lincoln Center. Select new releases:
Flannery: Lyrical, intimate exploration of the life and work of author Flannery O'Connor. Includes conversations with those who knew her, never-before-seen archival footage and newly discovered personal letters.

Helmut Newton, the Bad and the Beautiful: Newton made a name for himself by creating stylized, dreamlike fashion photography that was disturbing, ambiguous and bold. Critics questioned whether the women in his photos were treated as icons or erotic objects — or both.

John Lewis, Good Trouble: Using interviews and rare archival footage, Good Trouble chronicles Lewis' 60-plus years of social activism and legislative action on civil rights, voting rights, gun control, health-care reform and immigration.
Films at Lincoln Center Virtual Cinema: Watch some of the best films of the year from home and support Film at Lincoln Center. Select new releases:
Bloody Nose, Empty Pockets: On the eve of the 2016 U.S. presidential election, a Las Vegas dive bar becomes a stage where employees and barflies commiserate one last time.

First Cow: A taciturn loner and skilled cook finds true connection with a Chinese immigrant. They collaborate on a successful business, reliant upon the clandestine participation of a nearby landowner's prized milking cow. 

Ghost Tropic: After work, a Maghrebi cleaning woman falls asleep on the last subway train and wakes up at the end of the line. She has no choice but to make her way across Brussels on foot. Opens 28 August.
Decade of Fire: Left unprotected by the city government, nearly 250,00 people in the Bronx were displaced as their close-knit, multiethnic neighborhood burned to the ground in the 1970s. See this an untold piece of American urban history. PBS.
Seberg: Inspired by true events about the French New Wave darling, Jean Seberg (Kristen Stewart), was targeted by the FBI because of her support of the civil rights movement and romantic involvement with Hakim Jamal. Amazon Prime.
Ida B. Wells, A Passion for Justice: Wells was a household name in Black America during much of her lifetime (1863-1931) and was considered the equal of her well-known African American contemporaries. Joins excerpts from Wells's memoirs (read by Toni Morrison) and interviews with scholars with teeming visuals. Kanopy.
The Tobacconist: 17-year-old Franz moves to Vienna to apprentice at a tobacco shop. There he meets Sigmund Freud, a regular customer. When he falls desperately in love with Anezka, he seeks advice from the renowned psychoanalyst, who admits that the female sex is as big a mystery to him, too. Symphony Space Thalia Film.
You Never Had It, An Evening with Charles Bukowski: A long night of smoking cigarettes and drinking wine with Bukowski and his soon to be wife, Linda Lee Beighle, talking about all kinds of subjects Symphony Space Thalia Film.
Becoming the Song: Profiles the openly gay Hong Kong singer and human rights activist Denise Ho and explores her remarkable journey from commercial Cantopop superstar to outspoken political activist. Symphony Space Thalia Film.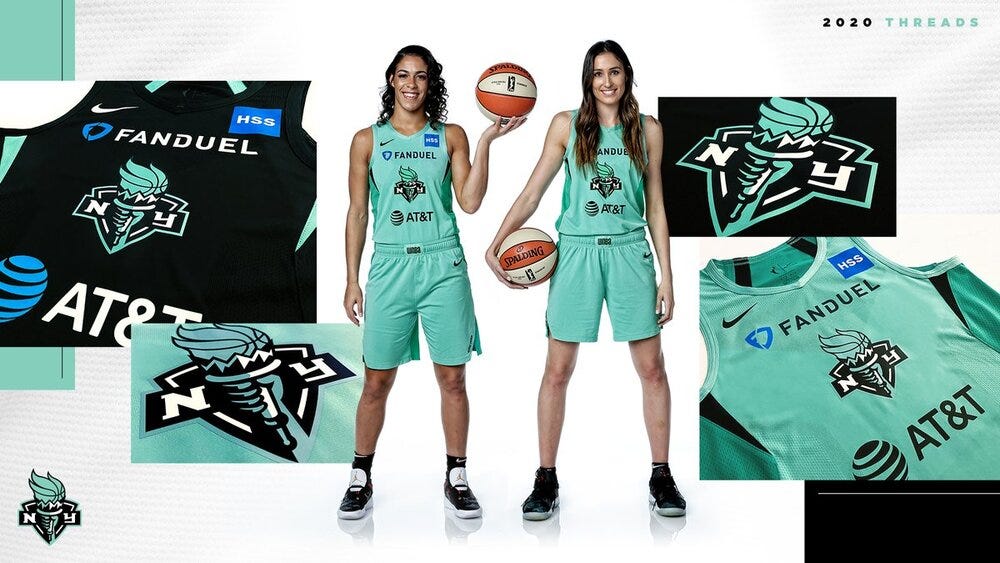 Want to watch some fly b-ball? Check out the New York Liberty on ESPN2 and other networks through August. See also the new threads, repped by Kia Nurse and Sabrina Ionescu.
SPORT
v. Florida Marlins, 7-8 August, 7pm; 9 August, 1pm
v. Washington Nationals: 10-12 August, 7pm; 13 August, 1pm
v. New York Yankees: 21-22 August, 7pm; 23 August, 1pm
v. Florida Marlins: 25-27 August, 7pm
See Ticket policies.
WNBA New York Liberty (all games played in Bradenton, Florida; broadcast on CBS Sports Network, YES):
v. Washington Mystics, 7 August, 7pm
v. Las Vegas Aces: 9 August, 3pm
v. Los Angeles Sparks: 11 August, 6pm
v. Indiana Fever: 13 August, 6pm
v. Minnesota Lynx: 15 August, 6pm
v. Seattle Storm: 18 August, 9pm
v. Chicago Sky: 20 August, 7pm
v. Connecticut Sun: 22 August, 7pm
v. Chicago Sky: 25 August, 7pm
v. Dallas Wings: 27 August, 8pm
v. Las Vegas Aces: 29 August, 4pm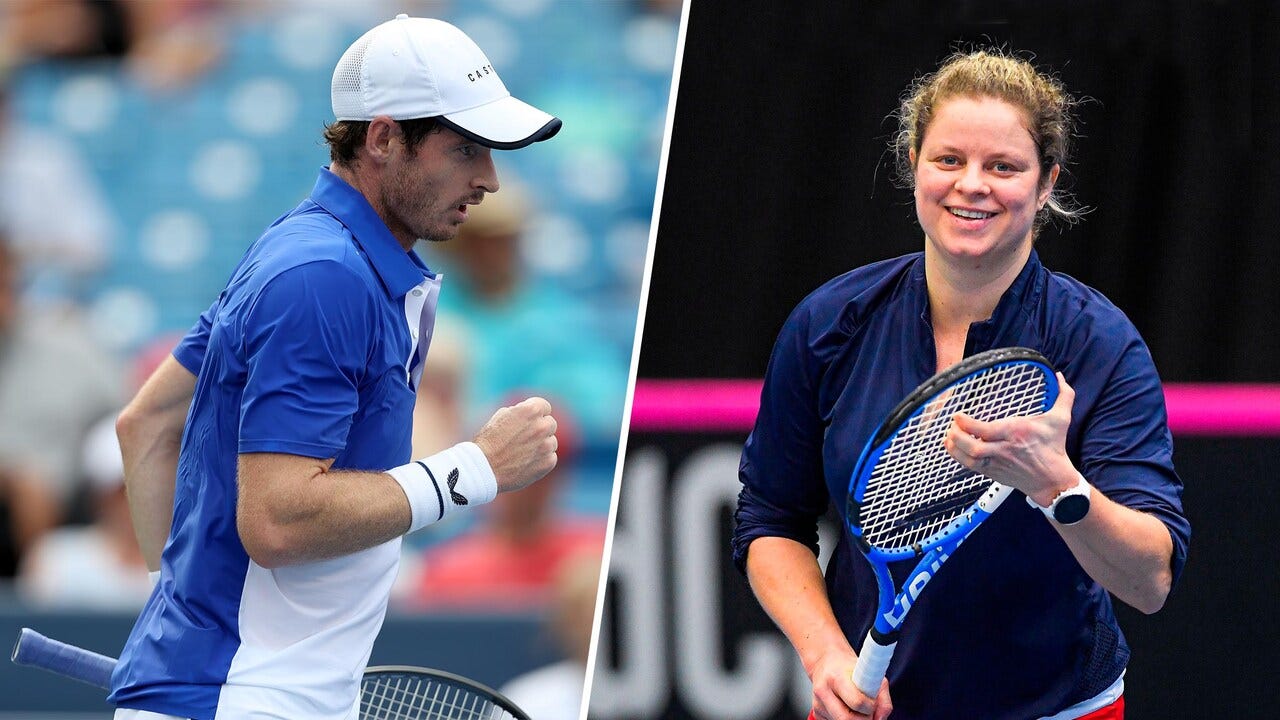 Former champs Andy Murray, Kim Clijsters headline 2020 US Open singles wild cards.
2020 US Open: Past US Open champions Kim Clijsters and Andy Murray received wild-card invitations for the Grand Slam to be held in a tennis "bubble" sans spectators. Other players include:
Women: Simona Halep, of Romania, a two-time Grand Slam champion; No. 3 Karolina Pliskova, of the Czech Republic; No. 4 Sofia Kenin, of the United States, the 2020 Australian Open champion; No. 5 Elina Svitolina, of Ukraine; No. 6 Bianca Andreescu, of Canada, the defending US Open women's singles champion; and No. 9 Serena Williams, of the United States, a six-time US Open and 23-time Grand Slam champion.
Men: Novak Djokovic, a three-time US Open champion; No. 3 Dominic Thiem, of Austria; No. 5 Daniil Medvedev, of Russia, a 2019 US Open finalist; No. 6 Stefanos Tsitsipas, of Greece; No. 7 Alexander Zverev, of Germany; No. 8 Matteo Berrettini, of Italy; and No. 10 David Goffin, of Belgium.
31 August to Sept. 13 at the USTA Billie Jean King National Tennis Center in Flushing, N.Y.