NY*Confidential: Digital Life Edition
Lose yourself in this composite drawing of the Met Museum… for a few hours.
Dear NY*Confidants!
Week three of the quarantine comes to an end and our president has extended the US lockdown to the end of April after bowing to pressure from medical experts. We could all be forgiven for thinking that we're never going to be able to go on holiday again. So check out this virtual guide to some of the world's most popular destinations from Angkor Wat in Cambodia to Petra in Jordan for that perfect vicarious travel experience at the moment or in the future.
A little spring of hope arrived just now to New York harbor The USNS Comfort naval ship docked at Pier 90 on the Hudson River near the Intrepid and while it isn't treating many patients at the moment, it is a site along the shore. In March, the Metropolitan Museum of Art joined thousands of museums that closed their galleries, but anyone with an internet connection can explore 5,000 years of art from the museum's holdings. A standout among these many resources is a charming, illustrated map of the museum that was hand-drawn by artist John Kerschbaum, who received the commission in 2004. This "Family Map" charts out every gallery of the museum on a single, 18-by-24-inch page and is based on a similarly saturated 1976 poster of Manhattan by artist Tony Graham. Finally, check out Bronx-born DJ D-Nice, including a DJ set dubbed Club Quarantine on Instagram live and an Instagram Live party with Michelle Obama to encourage viewers to register to vote.
Right now, freelance writers and designers are being hit the hardest. The gig economy is bringing us all to our knees. Please, if you feel generous, subscribe to this newsletter for $5 per month. Or back it on Patreon. A lot of "little somethings" = needed income.
Rain, shine or global pandemicNY*Confidential is now in your inbox every other week; subscribers every week (except for pandemic).
Portions of What's On: NY*Confidential reside on www.nyconfidant.com.
Facebook: https://www.facebook.com/NYConfidential/
Pass it on…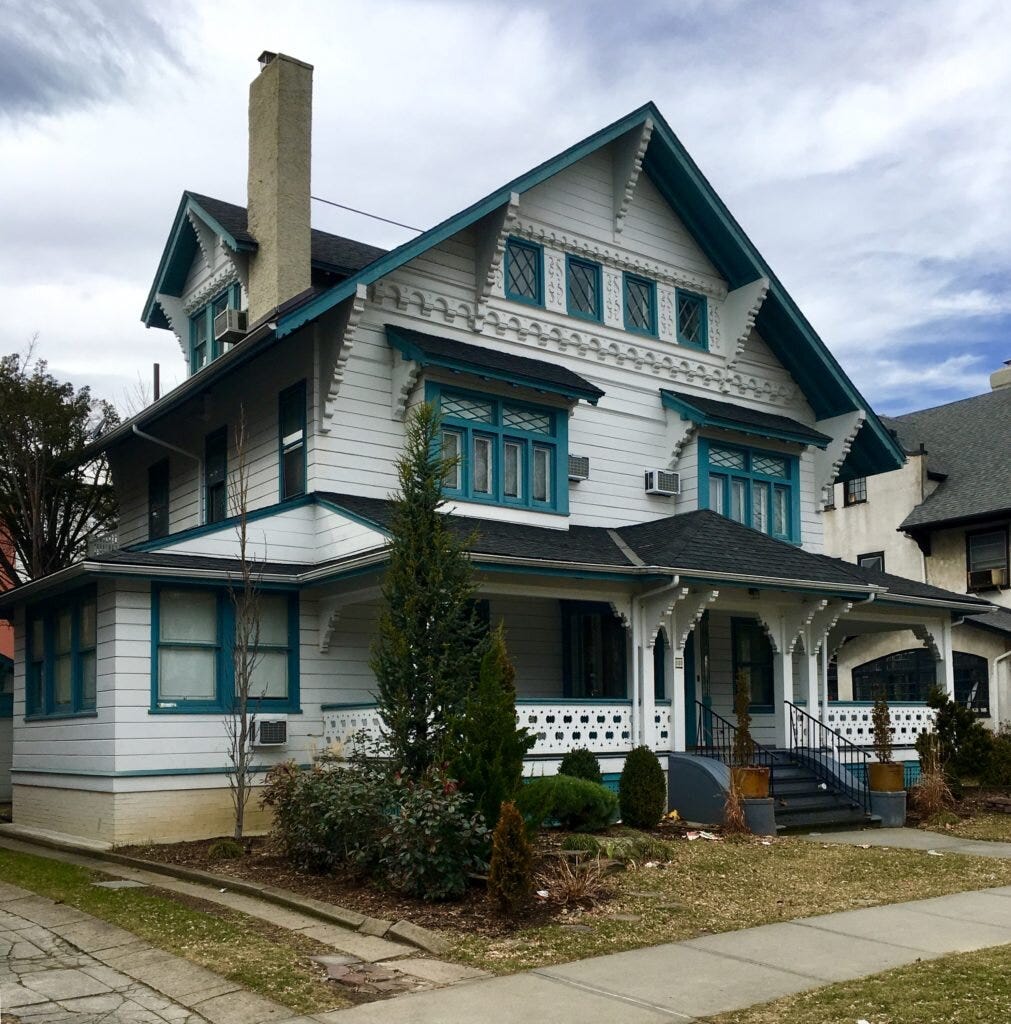 See Flatbush in the time of the Spanish Flu — virtually, with Untapped Cities
BOOK READINGS, TOURS + PERFORMANCE, ETC. (DIGITAL)
Virtual Wine Tasting with The Red Hook Winery: Did you know that some of the highest quality wine in the country is being produced right here in NYC? Fortunately for you, this Brooklyn-based winery is not only ready to talk shop, but also deliver a curated selection of their award-winning wines. 3 April, 8pm, $10.
Brooklyn Museum First Saturdays: For over twenty-one years, the Brooklyn Museum has hosted First Saturdays — monthly evenings of free programming. Join them for art-making, performance, and music — virtually, across the world. 4 April, 5 pm, Free.
Virtual Tour of Victorian Flatbush: Flatbush is a neighborhood that best encapsulates the full history of Brooklyn. See several small historic districts, mansions, and church grounds dating back to 1654 — all in Central Brooklyn. 6 April, 12 pm.
Virtual Animal Meet & Greet with the Staten Island Zoo: A virtual trip to the biggest "little" zoo in America. The Staten Island Zoo contains more than 1,100 animals, and over 350 species of mammals, birds, reptiles, amphibians, fish and invertebrates from six of the world's seven continents. 7 April, 3pm, $10.
NYC's Tin Pan Alley: The Birthplace of America's Music Industry' Webinar: Watch the story of one neighborhood in New York that transformed the city into the songwriting and music publishing capital of the world: Tin Pan Alley. 7 April, 6pm, $10.
Books as Magic Presents Robert Kolker, Hidden Valley Road: After World War II, Don and Mimi Galvin seemed to be living the American dream. But behind the scenes was psychological breakdown, shocking violence, hidden abuse. By the mid-1970s, six of the ten Galvin boys were diagnosed as schizophrenic. 8 April, 7pm, via Zoom.
200 Years of New York City Fashion Webinar: A crash-course through the history of fashion in New York, from the revolutionary impact of its ready-to-wear garment industry in the 1800s, to its current role as a global fashion capital. New York Adventure Club, 8 April, 6pm, $10.
NY Adventure Club Virtual Group Trivia Night: A virtual group trivia night that will pit teams against one another to answer questions from diverse topics and themes. Each round will increase in difficulty. 9 April, 8pm, $10.
'The Lost & Forgotten Gilded Age Mansions of Fifth Avenue' Webinar: Beginning with the first residence erected in 1834, Fifth Avenue became the home of Manhattan's wealthiest citizens — but as the decades progressed, the seemingly endless row of lavish mansions were replaced one-by-one by office buildings. This is their story. 14 April, 6pm, $10.
Greenlight Bookstore Presents Emily Gould, Perfect Tunes: Gould's new novel explores the fault lines between parents and children, and asks whether dreams deferred can ever be reclaimed. 14 April, 7:30pm, via Zoom.
Greenlight Bookstore Presents Katy Simpson Smith, The Everlasting: Smith's third novel follows four characters across four centuries in Rome. Through it all Satan travels with them, narrating their struggles with bitter and biting commentary, offering counsel no one hears. 15 April, 7:30pm, via Zoom.
Greenlight Bookstore Presents Ann Lewinson, Still Life with Meredith: Lewinson's debut is at once funny, shocking and erudite, while contemplating the thin line that separates sanity from madness in a world that has a hard time telling the difference. 16 April, 7:30pm, via Zoom.
Virtual Road Trip Down Route 66: From classic roadside diners to desert ghost towns, it's time to explore the bygone era of one of America's most famous highways, through the lens of one award-winning photographer. 16 April, 6pm, $10.
Greenlight Bookstore Presents Jon Mooallem, This is Chance!: The Shaking of an All-American City: Longtime writer at large for The New York Times Magazine Jon Mooallem, tells a cinematic story of a community shattered by disaster — and of the unlikely woman who helped pull it back together. 17 April, 7:30pm, via Zoom.
Goodnight with Dolly: The beloved country singer and international icon will put on her perfectly tailored jammies and read a book from her Imagination Library, a literacy program started by the singer in 1995 for children of Tennessee. Thursdays, 7pm, 10 weeks, Free.
The Greene Space Presents Ever-Greens: Tune in for a curated offering of deep conversations, performances that provoke, and other rarely seen clips from the archives, including John Turturro, Cyndi Lauper, Anna Deveare Smith, Misty Copeland and Death, Sex & Money with Kevin Bacon. Tuesdays, 4pm, Free.
Explore How New York City Works: Turnstile Tours is now offering online tours that showcase how New York City works, from Manhattan's street vendors, beautiful public parks, Brooklyn's techies, makers, and manufacturers, or the city's rich industrial history. Every day, 11am, Free to $5.
Armchair Archivism: Missing life in the stacks or sifting through old papers in search of pieces of the past? Fear not: You can do the same thing online. Slews of institutions are in the market for armchair archivists — volunteers who can generate knowledge by clicking through digitized resources.
BOOKS TO BUY (LOCALLY):
Artforum by César Aira, translated by Katherine Silver: One man's obsession with Artforum magazine takes readers on a hilarious journey to the ultimate meaning of the very creation of art.
More Myself: A Journey by Alicia Keys: Keys shares her quest for truth - about herself, her past, and her shift from sacrificing her spirit to celebrating her worth.
Wow, No Thank You. by Samantha Irby: Irby is 40, and increasingly uncomfortable in her own skin. She has published successful books and has been friendzoned by Hollywood, left Chicago, and moved into a house with a garden with her wife in a Blue town in the middle of a Red state.
Had I Known by Barbara Ehrenreich: Ehrenreich has covered an extensive range of topics as a journalist and political activist, and is unafraid to dive into intellectual waters that others deem too murky — the articles and excerpts from a long-ranging career.
Save Yourself by Carmen Esposito: From a rising comedy star, a memoir that is "as hilarious and honest as she is on the stage," tackling the big issues explored in her comedy, including gender, sexuality and feminism - and how her Catholic childhood prepared her for her career.
Remember the days when the streets of Broadway were full? Until then, march your children or your pets around the living room and stream BroadwayHD.
THEATRE (DIGITAL)
Broadway HD: Streams Shakespeare to Tony Award-winning blockbusters. Click link. Free for a week.
National Theatre Live: For the next two months, theatre lovers from around the world can sit down to watch National Theatre Live productions streamed via YouTube into their front room or bed or garden or bath tub or anywhere with bandwidth. 7pm, Thursday nights.
Play-Per-View: A livestream play reading series that raises money for the Actors Fund, the Dramatists Guild, Broadway Cares and other organizations. Each livestream is one-night-only, one time from a solo piece to a musical.
Audible Theater: Producing, recording it and distributing live theatre on its platform as high-concept, storytelling-oriented audio drama.
The Metropolitan Opera: Streams a free series of encore Live in HD presentations on its website — a different show from the past 14 years will be streamed nightly. 7:30 p.m.
With the pandemic closing museums and galleries across the US, artists have been heading to the street to find a way of making an impact through their work.
CANVAS (DIGITAL)
Bronx Museum at Home: During the closure the museum has four categories of online learning including guided tours of both current and past exhibits.
Quarantine Chat: An artistic experiment that connects sheltering strangers at arbitrary points of the day; the app decides who talks to whom, and when, replacing the random conversations and serendipity of daily life.
Street Art During Corona: As the pandemic has closed museums and galleries across the US, artists have been heading to the street to find a way of making an impact through their work — a collective coping strategy for dealing with Covid-19.
Google Arts & Culture: More than a thousand museums worldwide is partnering with the Search-Engine Giant to get inside — without setting off alarms. Check out: MoMA in New York, the Munch Museum in Oslo, the British Museum, the Musée d'Orsay in Paris, the Today Art Museum in Beijing, The Rijkmuseum in Amsterdam. Other museums with their own virtual tours:
The Prado: Check out 936 Goyas, and their extensive commentaries and videos (with English subtitles), as well as Velázquez, Bosch, Rogier van der Weyden.
The Louvre: Provides everyone with the bandwith, even via iPhone, a virtual tour of the empty galleries, zooming in on favorite artworks.
Getty museum in Los Angeles: A number of online exhibitions on view – including Michelangelo, and another on the history and development of the Bauhaus, as well as its extensive collection and art historical resources.
Reminisce about Central Park jams of the past and look forward to future shows with SummerStage Anywhere.
MUSIC + COMEDY
SummerStage Anywhere: Catch throwback performances from some of the most distinct and talked-about performances. From electronica artist TOKiMONSTA (2018) and the Zombies (2013), to Bronx MC KRS-one (2009), Ballet X(2017), funk-rock band Chicano Batman (2017) and Afrobeat star Femi Kuti with rapper Common (2013).
Pitchfork: With music fans responsibly self-isolating and social distancing and venues on lockdown, artists are finding creative ways to navigate the coronavirus; a daily slate of concert streams, digital gatherings and other endeavors to support everyone's wellness.
Chris Gethard Presents: A weekly live hour of unfiltered comedy. 11pm, Wednesdays.
See Women Make Movies favorite The Rest I Make Up by Michelle Memran at the organization's free online film festival
NEW ON STREAMING
Films at Lincoln Center Virtual Cinema: Watch some of the best films of the year from home and support Film at Lincoln Center. Select new releases:
Bacurau: A vibrant backcountry Brazilian town finds its sun-dappled day-to-day disturbed when its inhabitants become the targets of a group of armed mercenaries.

The Whistlers: A playful, swift, and elegant neo-noir crime drama where not everything is what it seems.

Vitalina Varela: Vitalina Varela plays a Cape Verdean woman who has traveled to Lisbon to reunite with her husband after two decades of separation, only to arrive mere days after his funeral.
Women Make Movies Film Festival: To celebrate Women's History Month, WMM is hosting a virtual film festival that highlights the new releases in its transnational feminist film collection. Includes WMM Favorite, the Rest I Make Up. Free
Never Rarely Sometimes Always: Faced with an unintended pregnancy and a lack of local support, Autumn and her cousin Skylar embark across state lines to New York City on a fraught journey of friendship and compassion. Amazon Prime,3 April.
Les Misérables: Set in the Parisian suburb of Montfermeil in 2018, France wins the World Cup and tensions between police and residents escalate into outright warfare. 10 April. Amazon Prime
The Innocence Files: "We're the court of last resort," Peter Neufeld, a co-founder of the Innocence Project, which works to exonerate wrongfully convicted Americans, explains at the start of this nine-part documentary. 15 April, Netflix.
The Dog Doc: A founding father of integrative veterinary medicine, Dr. Marty Goldstein and his colleagues in South Salem, NY have created a mecca for holistic care, offering hope to scores of previously hopeless animals (and their owners). Amazon Prime
With nets on all courts down, work on your game without balls and with Essential Tennis.
SPORT
Tennis Practice without Nets: As tennis clubs across the world are closed, USTA leagues and tournaments are cancelled, and millions are forced to put their lives on hold and stay at home, you might be asking... What about my tennis game?
Soul-Replenishing Bike Rides: Even with Gov. Andrew Cuomo's PAUSE measures in place, it is still important to get some good solo exercise. Get outdoors and journey to these open-air destinations — six feet from your nearest neighbor.